Fast Food Good Food - Dr. Andrew Weil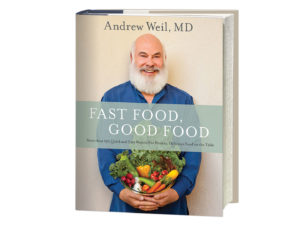 Fast Food,
Good Food
by Andrew Weil, M.D.

Over 150 Delicious, Nutritious and Quick Recipes…
from Dr. Andrew Weil's Own Kitchen!

Also available at:


Dr. Weil is the author of True Food, Spontaneous Happiness, The Healthy Kitchen (with Rosie Daley), Healthy Aging and other books.
FAST FOOD, GOOD FOOD offers delicious recipes for starters, soups, salads, main courses, pastas, desserts, drinks and more!
Learn how to stock your kitchen with healthy pantry essentials, suggestions on following the Anti-Inflammatory Diet, and other nutrition tips.
About The Book
Delicious, nutritious, quick, and easy recipes from bestselling author Dr. Andrew Weil's own kitchen.
These days, fewer people than ever are cooking meals at home. Convincing ourselves that we don't have time to cook, we've forgotten how fast, simple, and satisfying it can be to prepare delicious meals in our own kitchens. In FAST FOOD, GOOD FOOD, bestselling author Dr. Andrew Weil reminds us, with more than 150 easy-to-prepare recipes for delectable dishes that are irresistibly tasty and good for you. These recipes showcase fresh, high-quality ingredients and hearty flavors, like Buffalo Mozzarella Bruschetta, Five-Spice Winter Squash Soup, Pan-Seared Halibut with Green Harissa, Coconut Lemon Bars, and Pomegranate Margaritas. With guidance on following an anti-inflammatory diet and gorgeous photographs, this book will inspire the inner nutritionist and chef in every reader.
Andrew Weil, M.D., is a world-renowned leader and pioneer in the field of integrative medicine, a healing oriented approach to health care, which encompasses body, mind, and spirit. He is the founder and director of the Andrew Weil Center for Integrative Medicine (AWCIM), a cofounder of True Food Kitchen and the author of several bestselling books, including True Food, Spontaneous Happiness, Spontaneous Healing, Eight Weeks to Optimum Health, The Healthy Kitchen (with Rosie Daley), and Healthy Aging. He lives in Tucson, Ariz.
This eight-minute video is the distilled essence of Dr. Weil's nutritional teaching. In it he outlines the fundamental elements of his Anti-Inflammatory Diet – including what to eat, what not to eat, and other essential bites of food wisdom.
Featured Recipes
Learn More