Quick Corn Chowder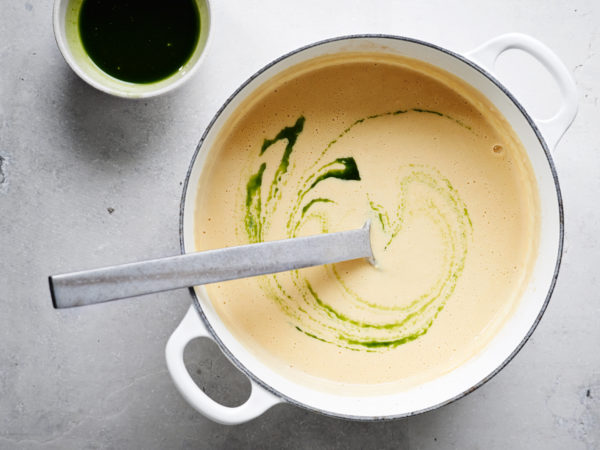 Nutrition
Serves 6
Nutrients per serving:
Calories 158
Protein 4.5g
Saturated Fat 0.7g
Monounsat Fat 3.8g
Polyunsat Fat 0.84g
Carbohydrate 22.3g
Fiber 3.2g
Cholesterol 0mg
Vitamin A IU 135
Vitamin E 0.8
Vitamin C 3mg
Calcium 23mg
Magnesium 1.26mg
This recipe is courtesy of Dr. Weil's cookbook: FAST FOOD GOOD FOOD.
This version of chowder uses olive oil, cashew milk, smoked paprika and fresh corn kernels cut from the cob.
An iconic summer soup, corn chowder is too often overly rich with bacon and quantities of butter, cream, or half-and-half, plus the added glycemic load of potatoes. This version uses olive oil and a moderate amount of cashew milk. Of course, fresh corn kernels, cut from the cob, are one of summer's treats, but the new frozen supersweet corn now widely available allows you to enjoy this soup throughout the year with minimal preparation time. Smoked paprika, a pantry essential, adds greatly to the flavor. A Fast Food Good Food recipe.
Food as Medicine
Sweet corn is a rich source of vitamins and minerals and a good source of the antioxidants, zeaxanthin and lutein – both of these phytochemicals can promote eye health. Corn's insoluble fiber can feed the good bacteria in your gut, which aids in digestion and helps to keep you regular.
Ingredients
2 tablespoons extra-virgin olive oil
1 onion, sliced
1 pound frozen supersweet yellow or white corn
3 cups vegetable stock
1 cup cashew milk
1 teaspoon smoked paprika or more to taste
Sea salt ad freashly ground black pepper, to taste
6 tablespoons chopped fresh chives
Instructions
Heat the olive oil in a soup pot over medium -high heat. Add the onions and saute, stirring occasionally, until they are translucent and beginning to color, about 5 minutes.
Add the frozen corn and stir to mix well. Add the vegetable broth, raise the heat to high, and bring to boil.
Cover the pot, lower the heat, and boil gently for 5 minutes.
Add the cashew milk, smoked paprika, salt, and pepper, and continue to cook for another minute.
Remove the pot from the heat and use an immersion blender to puree the soup. (You can do this in a regular blender, but let the soup cool first to avoid splashing hot liquid.)
Heat the pureed chowder over low heat to desired serving temperature. Adjust the seasoning if necessary.
To serve, top each bowl with a tablespoon of chopped chives or a swirl of chive-infused oil.