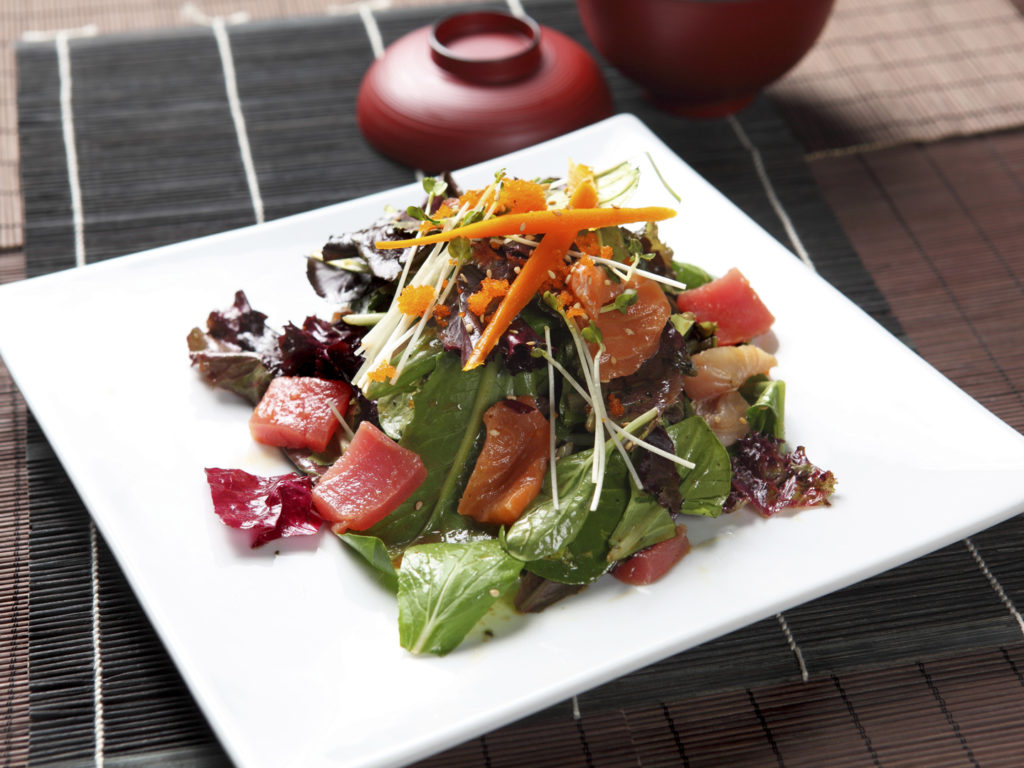 Sashimi Tuna Salad
A True Food Kitchen restaurant exclusive! In this recipe, your simple tuna salad is given an Asian flair with the additions of edamame, sesame seeds, wasabi peas, and ginger miso vinaigrette. Full of vibrant flavors, this salad won't disappoint.

Food as Medicine
Tuna is rich in omega-3 fatty acids, which have been linked to improved cardiovascular health and which tend to be deficient in the American diet.
Ingredients
8 ounces tuna, diced small
8 ounces baby greens
4 ounces grape tomatoes, halved
4 ounces cucumbers, diced
3 ounces edamame beans
2 avocados, diced
1 teaspoon toasted sesame seeds
2 tablespoons wasabi peas
2 ounces ginger miso vinaigrette (recipe below)
GINGER MISO VINAIGRETTE
1 tablespoon miso paste
2 tablespoons rice vinegar
1 teaspoon salt
1/4 cup tamari sauce
1 pinch cayenne pepper
1 tablespoon pickled ginger
1 cup canola oil
Mix all ingredients well.
Instructions
Combine all ingredients in a large bowl and drizzle with vinaigrette.
Want more healthy, delicious recipes? Join the Dr. Weil on Healthy Aging online guide for access to hundreds of anti-inflammatory recipes and our exclusive eating guides. Sign up today and get 14 days free!