Seafood Fideo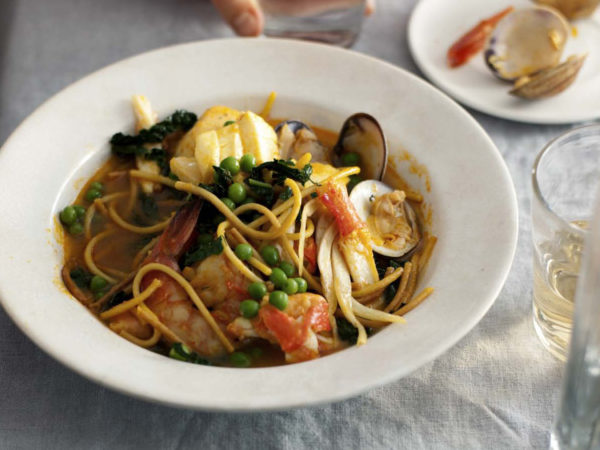 Nutrition
Makes 4 to 6 servings
Nutrients Per Serving:
Calories 267.5
Fat 2.1 grams
Saturated Fat 0.3 grams
(7.0% of calories from fat)
Protein 24.4 grams
Carbohydrate 37.3 grams
Cholesterol 77.1 mgs
Fiber 3.3 grams
This recipe is courtesy of Dr. Weil's cookbook: True Food: Seasonal, Sustainable, Simple, Pure.
This recipe is a twist on a traditional Spanish soup and combines fresh seafood with spaghetti.
Fideo means noodle in Spanish and also refers to a Mexican soup made with toasted pasta cooked in the broth. This version combines spaghetti (gluten-free or not) and a selection of seafood. I make the broth a day in advance to allow the flavors to marry. Buy only the freshest seafood from a good source. If you are not able to get the varieties we suggest or if you don't care for clams or mussels, omit them and substitute your own fresh favorites. A True Food Kitchen exclusive! 
Food as Medicine
Black cod (Anoplopoma fimbria) goes by many names: sablefish, blue cod, bluefush, candlefish, coal cod and more. But whatever you call it, this denizen of the deep North Pacific is exceptionally high in omega-3 fatty acids, which appear to help support cardiovascular health and alleviate depression.
Ingredients
2 medium tomatoes, chopped
1 small onion, chopped
1 large jalapeño chile, seeded and chopped
2 garlic cloves, mashed
5 tablespoons tablespoons Annatto Oil
8 ounces spaghetti, broken into 2-inch pieces
1 (8-ounce) bottle clam juice
1/8 teaspoon saffron
1/2 teaspoon smoked paprika
4 ounces black cod, cut into 8 pieces
8 large shrimp, shelled and deveined
16 Littleneck or other small clams, scrubbed
1/2 fennel bulb, thinly sliced
1/2 cup peas, fresh or frozen
4 ounces fresh, cooked crabmeat
2 cups thinly sliced kale strips
Instructions
Place the tomatoes, onion, jalapeño and garlic in a blender and puree until smooth.
In a skillet, heat 3 tablespoons Annatto Oil over medium heat. Add the pureed vegetables and cook for 5 minutes.
In a large pot over medium heat, heat the remaining 2 tablespoons of Annatto Oil. Add the spaghetti and sauté until golden.
Add the clam juice, 6 cups water, saffron and smoked paprika. Stir in the pureed vegetables. Cook until the spaghetti is al dente.
Using a slotted spoon, remove as much spaghetti as possible from the pot to warm bowls. Cover and keep warm.
Add the black cod, shrimp, clams, fennel and peas to the pot. Cover and cook over medium heat for 3 minutes. Add the crab and kale and heat through.
Discard any clams that don't open. Divide the seafood and broth over the pasta and serve hot.