Heirloom Tomato Gazpacho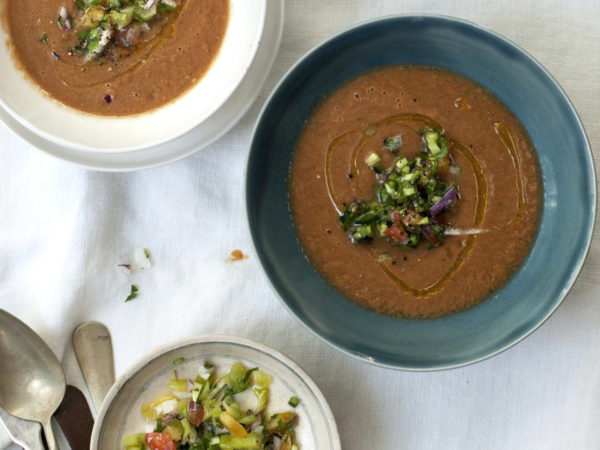 Nutrition
Makes 12 cups, 6 servings
Nutrients Per Serving:
Calories 159.9
Fat 5.9 grams
Saturated Fat 0.8 grams
(30.4% of calories from fat)
Protein 5.3 grams
Carbohydrate 25.1 grams
Cholesterol 0 mgs
Fiber 8.0 grams
This recipe is courtesy of Dr. Weil's True Food Kitchen restaurant in Phoenix, Arizona.
This recipe is good on a sizzling day: ice-cold fresh vegetables and a little hot spice to help your body cool.
This version of the Spanish classic is one of the most popular dishes during the broiling summer months in Phoenix. Nothing tastes better on a sizzling day than ice-cold fresh vegetables in a chilled bowl. Paradoxically, adding a little hot spice helps your body cool itself as well. This dish is a good base for experimenting with different chiles, as their flavors emerge cleanly. A recipe from True Food Kitchen restaurant.
Ingredients
4 to 5 pounds chopped heirloom tomatoes
1 20-ounce can diced tomatoes
2 celery stalks, diced
1 poblano chile, stemmed, seeded and chopped
1 red bell pepper, diced
1 small red onion, diced
1/2 cup diced jicama
1 medium cucumber, peeled, seeded and diced
1/4 cup chopped fresh Italian parsley
1/3 cup red wine vinegar
2 tablespoons extra virgin olive oil
2 teaspoons vegetarian Worcestershire sauce
1 1/2 teaspoons green Tabasco sauce
2 teaspoons salt
Instructions
Combine all ingredients plus 1/4 cup cold water in a large bowl and mix well to combine. Remove three cups of the mixture and place in a blender. Blend until smooth and then return to the bowl. Mix well, cover and refrigerate. Serve cold.