Antioxidant Berry-Walnut Muffins With Sea Buckthorn Juice Glaze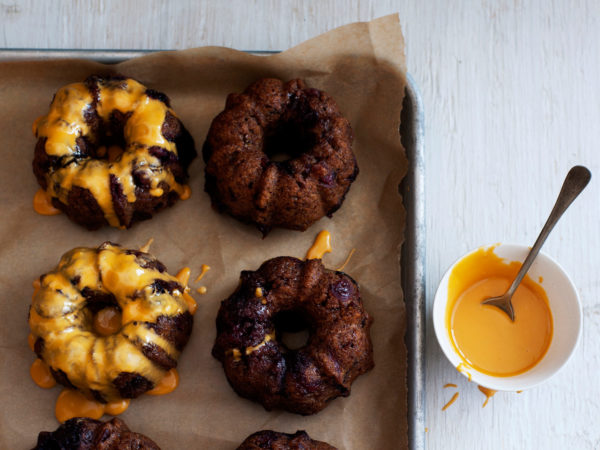 Nutrition
Makes 12 large muffins
Nutrients per muffin:
Calories 37.1
Total Fat 2.6g
Saturated Fat 0.3g
Polyunsaturated Fat 1.8 g
Monounsaturated Fat 0.4g
Cholesterol 3.9mg
Sodium 2.9mg
Potassium 24.2mg
Total Carbohydrate 2.5g
Dietary Fiber 0.6g
Sugars 0.8g
Protein 1.1g
This recipe is reprinted courtesy of Dr. Weil's True Food: Seasonal, Sustainable, Simple, Pure.
The term antioxidant isn't common on restaurant menus, but it appears several times on ours, and our guests have responded positively. These muffins, liberally studded with dried berries and light on sugar, are on our weekend brunch menus. Add them to yours as well. They're made with spelt, an ancient strain of wheat that's richer in nutrients than flours made from modern wheat. A little sea buckthorn juice gives the icing a distinctive tang.
Ingredients
Berry-Walnut Muffins
1 1/4 cups spelt flour
1 1/3 cups ground dark flax meal
2/3 cup evaporated cane sugar
1 tablespoon baking powder
2 teaspoons ground cinnamon
1 1/2 teaspoons ground nutmeg
3 large eggs
1 3/4 cups plain soy milk
1 cup fresh or frozen blueberries
3/4 cup unsweetened dried cranberries
1 cup coarsely chopped walnuts
Sea Buckthorn Juice Glaze
1 tablespoon sea buckthorn juice
1/2 cup confectioners' sugar
1/2 of an egg white
Instructions
Preheat the oven to 325° F. Lightly oil a 12-cup muffin pan or two 6-cup mini Bundt pans with expeller-pressed canola oil or line with paper liners.
In a large bowl, whisk together the spelt flour, flax meal, sugar, baking powder, cinnamon, and nutmeg.
In a separate bowl, whisk the eggs. Whisk in the soy milk. Add the wet ingredients to the dry ingredients, mixing until just combined. Fold in the blueberries, cranberries, and walnuts. Le the batter rest for 30 minutes.
Fill each muffin cup three-quarters full. Bake for 15 to 20 minutes or until a toothpick comes out clean when inserted in the center of a muffin.
While the muffins bake, make the glaze. In a small bowl, whisk together all of the Glaze ingredients.
Cool the muffins in the pan for 10 minutes on a wire rack. Turn the muffins out of the pan to cool completely, then drizzle on the glaze.