True Food: Seasonal, Sustainable, Simple, Pure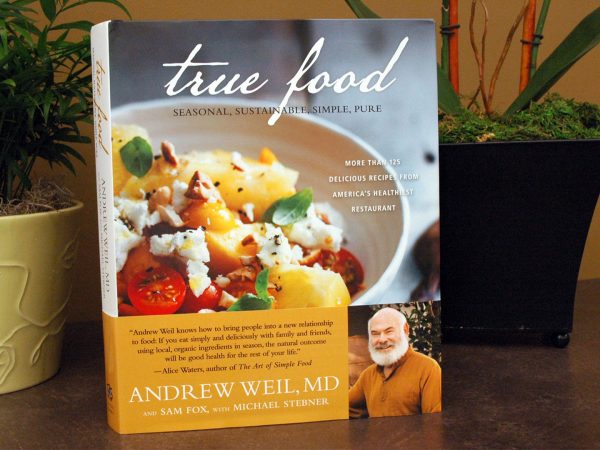 With the publication of my new cookbook, True Food: Seasonal, Sustainable, Simple, Pure, my foray into the restaurant business takes another exciting turn. The book features more than 125 recipes for the fresh, flavorful, healthy dishes we serve at our True Food Kitchen locations. I am delighted that now virtually anyone can make and enjoy the dishes that have attracted such a devoted following at our restaurants.
Along with those recipes, in this book I tell the tale of how I this adventure began in 2007. To summarize: For years, the people for whom I cooked had urged me to open a restaurant. I resisted for a variety of reasons: I had plenty of other things to do, it seemed very financially risky, and perhaps most of all, I knew absolutely nothing about the restaurant business.
But those objections began to melt away when my business partner, Richard Baxter, arranged a meeting between Sam Fox and me. Sam is a third-generation restaurateur and a brilliant businessman with a keen sense about what the public wants in a dining experience. After I made a dinner for him at my home in Tucson, he was impressed enough to bring in a highly skilled and inventive chef, Michael Stebner. Michael and I began an intensive collaboration that led to the first True Food Kitchen opening in Phoenix in October of 2008. Lines have snaked out the door ever since, and we've rolled out new locations at steady clip. Having spent a lifetime trying to persuade people in books, articles and speeches that healthy food can also be delicious, it's wonderful to finally have a way to reach the public via the most persuasive medium of all: the food itself.
Now, even geography is no barrier to getting the good news – if you don't have a True Food Kitchen near you, this book can help fill the gap. Written by Sam, Michael and me, it contains all of the "greatest hits" on which our success is based, carefully tweaked to make preparation within the reach of most home cooks. You'll find healthy breakfasts; filling salads that can easily become meals; savory soups and chilis; main dishes with judicious amounts of seafood, poultry and meat; vibrant vegetable dishes and even some popular adult beverages made with fresh juices.
Want more? I am very pleased to share several of these recipes on my website Enjoy!