Teriyaki Sauce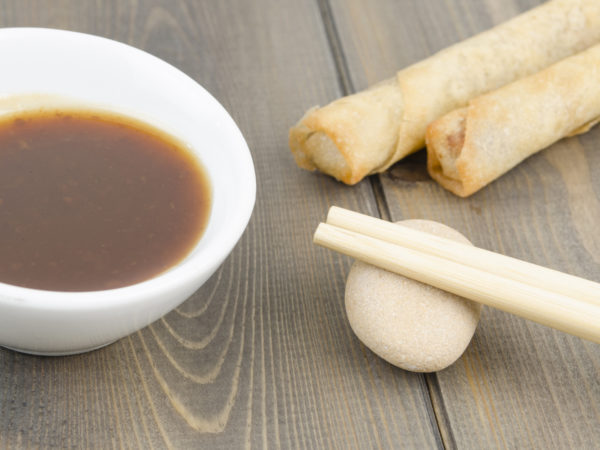 Nutrition
Makes 32 Servings
Nutrients Per Serving:
Calories 20.9
Fat 0 grams
Saturated Fat 0 grams
(0% of calories from fat)
Protein 0.2 grams
Carbohydrate 5.2 grams
Cholesterol 0 mgs
Fiber 0.2 grams
This recipe is courtesy of Dr. Weil's cookbook: True Food: Seasonal, Sustainable, Simple, Pure.
A delicious sauce that's light and lets the fresh fruit flavors shine through.
This is a cleaned-up version of an old standby, light enough to let the fresh fruit flavors shine through. Pectins in the fruit thicken the sauce naturally. A True Food Kitchen exclusive! 
Food as Medicine
Ginger is a natural anti-inflammatory agent, and has a long history of effectively relieving gastrointestinal problems. It is a rich source of potent anti-inflammatory compounds known as gingerols, which may help to explain why clinical studies have found that ginger alleviates the pain and swelling of both arthritis and general muscular discomfort.
Ingredients
3/4 cup chopped fresh pineapple
1 Fuji, Gala, or Honey Crisp apple, cored and cut into wedges
1 tablespoon chopped fresh ginger
1 scallion, cut into 1-inch pieces
1/2 cup packed light brown sugar
1/3 cup freshly squeezed orange juice
1/3 cup low-sodium soy sauce
Instructions
Combine all of the ingredients in a saucepan over medium heat.
Bring to a simmer and then reduce the heat to low. Continue to cook for 20 minutes, until the fruit is soft.
Allow the mixture to cool for 20 minutes, then transfer to a blender or use an immersion blender to puree. Hold the lid down firmly with a clean, folded towel over it. Start on low speed and blend until it is a smooth sauce.
Transfer to a lidded container and refrigerate for up to 3 days. Stir well before using.
Want more healthy, delicious recipes? Join the Dr. Weil on Healthy Aging online guide for access to hundreds of anti-inflammatory recipes and our exclusive eating guides. Sign up today and get 14 days free!