Annatto Oil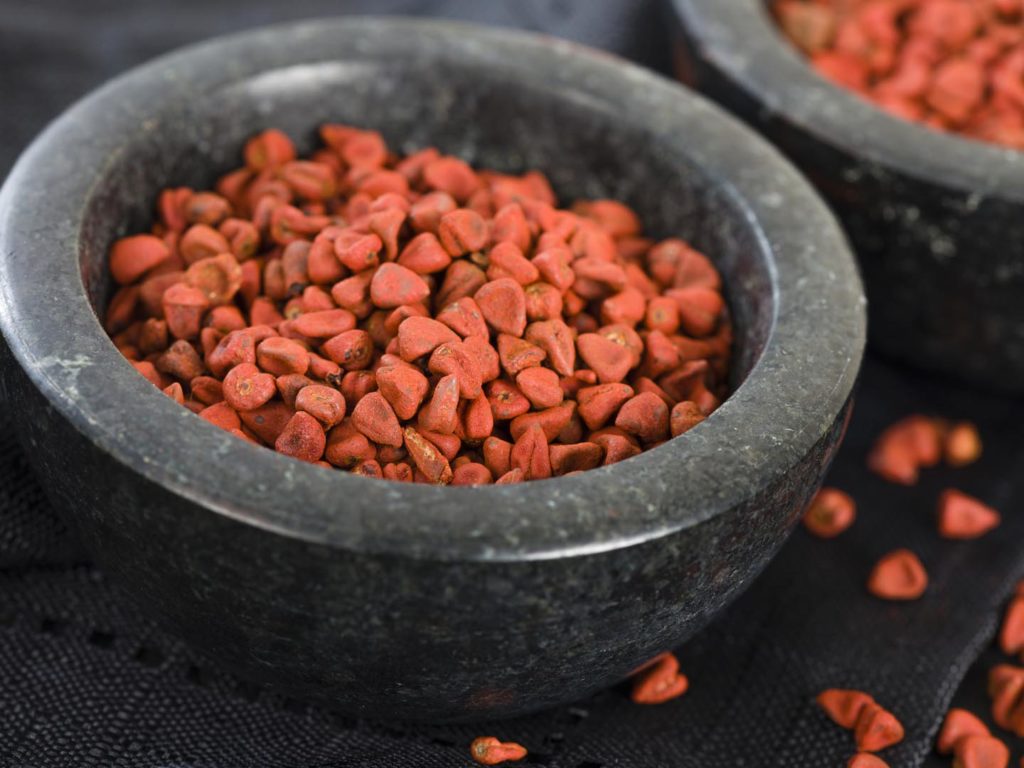 Nutrition
Makes 8 Servings
Nutrients Per Serving:
Calories 119.4
Fat 13.5 grams
Saturated Fat 1.9 grams
(100% of calories from fat)
Protein 0 grams
Carbohydrate 0 grams
Cholesterol 0 mgs
Fiber 0 grams
This recipe is courtesy of Dr. Weil's cookbook: True Food: Seasonal, Sustainable, Simple, Pure.
Annatto, from the fruit pulp and seeds of the tropical achiote tree, add a rich golden orange hue to this dish!
A True Food Kitchen exclusive!  Annatto, from the fruit pulp and seeds of the tropical achiote tree, is virtually tasteless in small quantities. Its principal virtue is its ability to impart a rich golden orange hue to foods, such as butter and cheddar cheese. Seeds are available in specialty food stores or online. If tracking them down is too daunting, a pinch of turmeric can accomplish something similar.
Food as Medicine
Annatto is an excellent source of tocotrienols, a type of antioxidant similar to the components of natural vitamin E. More research is needed to determine if there are specific health benefits to the tocotrienols and other constituents of annatto.
Ingredients
1/2 cup extra-virgin olive oil
1 tablespoon annatto seeds
Instructions
Heat the oil and annatto seeds in a small saucepan over low heat until the oil is bright orange-red and aromatic, about 10 minutes. Take care not to overheat the oil. Strain out the seeds and let the oil cool. If not using immediately, store in a lidded container in the refrigerator for up to two weeks.
Want more healthy, delicious recipes? Join the Dr. Weil on Healthy Aging online guide for access to hundreds of anti-inflammatory recipes and our exclusive eating guides. Sign up today and get 14 days free!