Roasted Beets In Agrodolce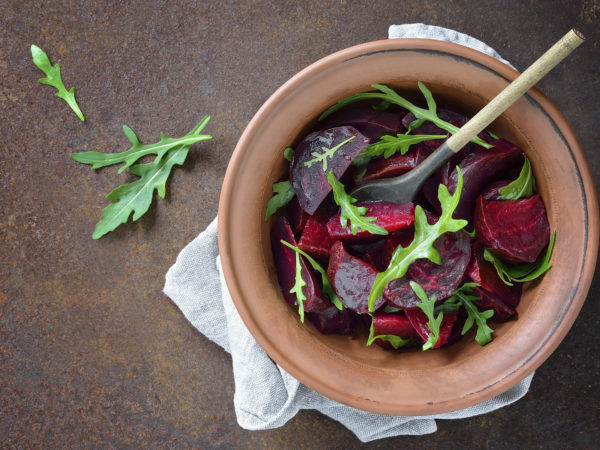 Nutrition
Serves 4
Nutrients Per Serving:
Calories 457
Fat 30g
Saturated Fat 4g
(14% calories from fat)
Protein 6g
Carbohydrate 48g
Cholesterol 0mg
Fiber 7g
This recipe is a delightful blend of peppery arugula leaves, sweet roasted beets and meaty pistachios.
A delightful blending of sharp, peppery arugula leaves, slightly sweet roasted beets and meaty pistachios results in a salad that can serve as a meal. The term "argrodolce" usually refers to a traditional Italian sweet and sour sauce. Add classic Asian spices and Mediterranean olive oil and vinegar, and you've got a multicultural taste sensation that the whole family will enjoy. Recipe courtesy of True Food Kitchen.
Food as Medicine
Beets contain phytonutrients called betalains that are potent antioxidants and anti-inflammatories. They are also rich sources of carotenoids that have been shown to help protect against eye diseases, especially those of the macula and retina. Compounds in beets have slowed tumor growth in laboratory studies, but further tests are needed to confirm anti-cancer benefits in humans.
Watch Dr. Weil and Chef Stebner make Roasted Beets in Agrodolce during a recent presentation on vegan/vegetarian diets at True Food Kitchen in Phoenix.
Ingredients
10 ea medium sized beets, stems removed
1/2 cup extra virgin olive oil
1/4 cup honey (substitute *agave nectar for vegan recipe)
2 tbsp red chili garlic puree
1/4 cup red wine vinegar
3 cups arugula leaves
2 tbsp pistachio nuts
Salt & pepper, to taste
Instructions
Drizzle oil on beets and toss to coat, adding salt and pepper to cover.
Place on sheet pan in a 325° oven for 60-75 minutes or until easily pierced with a paring knife.
Remove and allow to cool for 20 minutes. Using a paring knife, remove the skins of the beets, cut the beets into bite sized pieces.
Mix together the honey, red chili, garlic sauce and red wine vinegar in a small bowl. Add the olive oil to finish the marinade, season to taste with salt and pepper.
In a larger bowl, combine the beet pieces with the marinade, tossing well. Reserve to marinate up to 6 hours.
When ready to serve, toss the arugula leaves in with the beets. Place on a serving plate and top with nuts.
* In light of recent research, Dr. Weil no longer recommends agave syrup and suggests substituting an equivalent amount of maple or glucose syrup.