Cilantro Walnut Pesto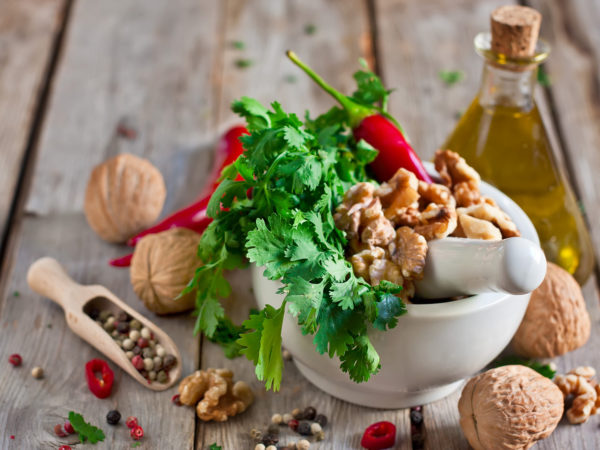 Nutrition
Serves 16
Nutrients Per Serving
Calories 50
Fat 4.7g
Saturated fat 0.4g
(84.2% of calories from fat)
Protein 1.2g
Carbohydrate 1.7g
Cholesterol 0mg
Fiber less than 1g
This recipe is from THE HEALTHY KITCHEN – Recipes for a Better Body, Life, and Spirit by Andrew Weil, M.D and Rosie Daley (Knopf)
This dish marries the sharp tang of cilantro with the depth of walnuts. A perfect addition to pasta and soup.
Traditional pesto is based on crushed (the term derives from the Genoese pestâ, "to pound") basil leaves and pine nuts, but I like to mix up the recipe. Kale pesto is wonderful, but my favorite version is probably this one, which marries the sharp tang of cilantro with the satisfying depth and complexity of walnuts. A wonderful addition to pasta, and a dollop improves almost any soup – like one of my favorites, Roasted Winter Squash & Apple Soup.

Food as Medicine
Walnuts are significantly higher in omega-3 fatty acids than other nuts. Walnuts are definitely good for you, as long as you don't overdo it and do not count on walnuts, or anything else, to protect against unhealthy eating habits.
Ingredients
1 cup walnut pieces
2 cups cilantro leaves, stems removed
1 jalapeno pepper, seeded and chopped
1/2 teaspoon salt, or to taste
1 tablespoon cider vinegar
1/4 cup purified water (approximate)
Instructions
Put the walnuts in a food processor and grind them fine.
Add the cilantro, jalapeño pepper, salt, vinegar, and 2-3 tablespoons of water and blend. Blend in a little more water if necessary to make a thick sauce.
Taste and correct the seasoning, adding more salt if necessary.
Keep any leftover pesto in the refrigerator in a tightly covered container and use as a dip or spread.