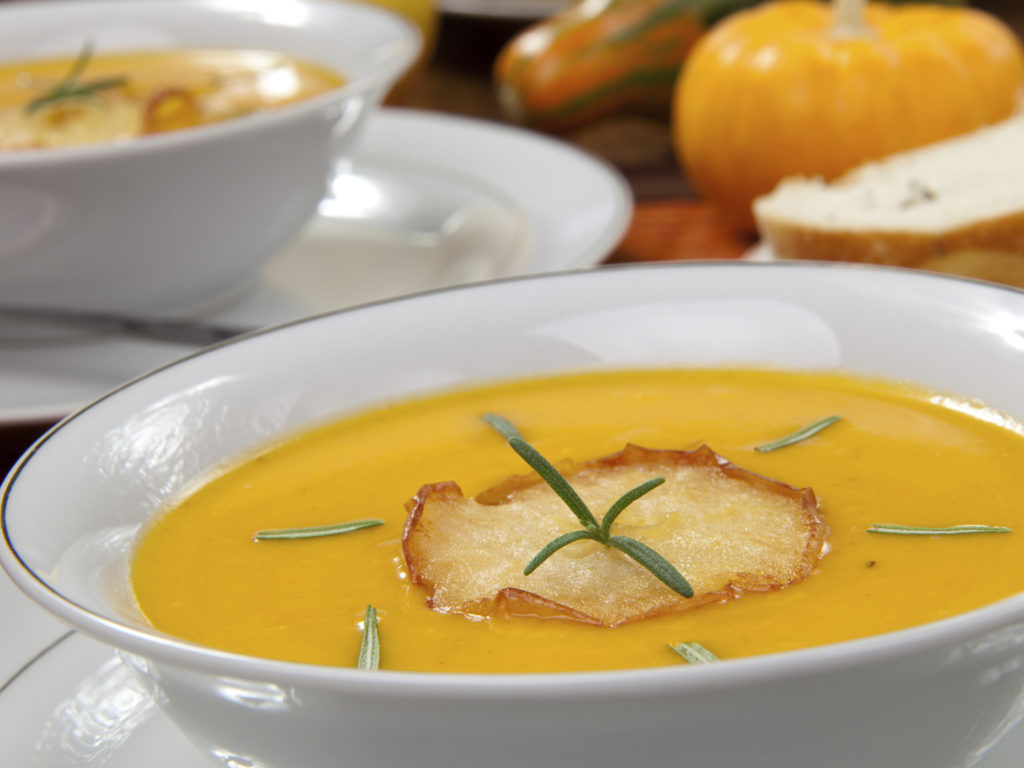 Roasted Squash & Apple Soup
Nutrition
Serves 4
Nutrients Per Serving
Per serving:
Calories 274
Fat 8g
Saturated Fat 1g
(26% calories from fat)
Protein 17g
Carbohydrate 40g
Cholesterol 0mg
Fiber 11g
This recipe is from THE HEALTHY KITCHEN – Recipes for a Better Body, Life, and Spirit by Andrew Weil, M.D and Rosie Daley (Knopf)
I think this rich soup is a showstopper. See if conversation doesn't come to a halt when people taste it at your table. Roasting brings out a striking depth of flavor in the squash, and the combination with apples and onions is irresistible. The Cilantro Walnut Pesto puts it over the top. I dream about this soup. And you will be delighted to find how easy it is to make.

Food as Medicine:
You get all sorts of goodies here: antioxidant carotenes from the squash, omega-3 fatty acids from the walnuts, and plenty of vitamins, minerals, and fiber.
Ingredients
1 large winter squash (about 2 1/2 pounds), such as butternut, buttercup, or kabocha, peeled, seeded, and cut into 2-inch pieces.
2 medium onions, peeled and quartered
3 cloves garlic, peeled
2 tart, firm apples, peeled, cored, and quartered
2 tablespoons extra virgin olive oil
Salt and red chili powder to taste
4-5 cups vegetable stock
Instructions
Preheat oven to 400°F.
In a large roasting pan, toss the squash, onions, garlic, and apples with the oil to coat. Season well with the salt and chili powder. Roast, stirring every 10 minutes, until the vegetables are fork-tender and lightly browned, about 40 minutes.
Put half the vegetables with 2 cups of the stock in a food processor and purée until smooth. Repeat with the remaining vegetables and broth. Return puréed mixture to the pot. If the soup is too thick, add more broth.
Correct the seasoning and heat to a simmer.
Serve in warm bowls with dollops of Cilantro Walnut Pesto.
Want more healthy, delicious recipes? Join the Dr. Weil on Healthy Aging online guide for access to hundreds of anti-inflammatory recipes and our exclusive eating guides. Sign up today and get 14 days free!