Pineapple Almond Shake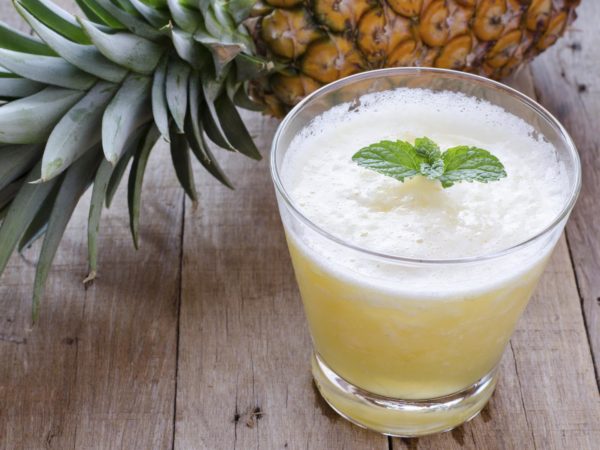 Start your day with this easy-to-make smoothie. Its bright flavors and tangy sweetness will remind you of a gentle tropical breeze!
The almonds in this invigorating shake make it a terrific source of protein, and blanching your own almonds is a great kitchen activity for children.

Food as Medicine
Almonds, like walnuts, cashews and many other nuts, contain healthy monounsaturated fats that, eaten in moderation, can lower the risk of heart disease, including heart attack. Studies have found that those who consume more than five ounces of nuts per week had one third fewer heart attacks than those who rarely or never ate nuts. Additionally, just one-quarter cup of almonds – the amount in this recipe – contains 45 percent of the Daily Value for both vitamin E and manganese.
Ingredients
1/4 cup blanched almonds
1 cup roughly chopped fresh pineapple
1/2 cup ice, crushed or cubes
1/2 teaspoon pure maple syrup
1/4 cup rice milk or soy milk
1/2 cup pineapple juice
Instructions
Grind the almonds in a blender to a fine powder.
Add all the ingredients and blend until smooth.
Pour into 3 large drinking glasses.
(If you want to make more, repeat the recipes. Most blenders will accommodate only enough for 3.)