Strawberry, Fennel & Arugula Salad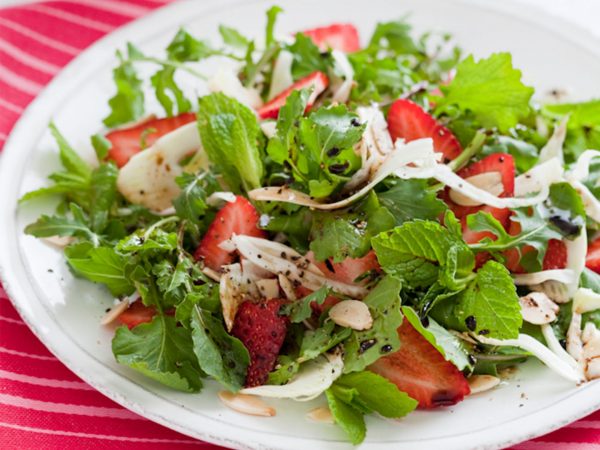 Nutrition
Makes 4 servings

Per Serving:
Calories: 65
Total Fat: 3 g (0.5 g saturated, 2 g monounsaturated)
Carbohydrates: 8 g
Protein: 2.5 g
Fiber: 3 g
Sodium: 18 mg
Recipe courtesy of The Longevity Kitchen, by Rebecca Katz, MS
Let this salad serve as a springboard for endless seasonal variations. Don't be shy with a variety of berries and greens! Each season brings new bounties.
Variety isn't just the spice of life; it will also keep you from falling into a food rut. People often tell me that they love salad but get bored with the same old version they always make. This disenchantment can lead folks away from the greens their bodies really need. If that sounds like you, let this salad serve as a springboard for endless seasonal variations. Eating with the seasons isn't just a catch phrase. Each season brings new foods just hitting their peak; in this case, strawberries and arugula, some of the welcome early harbingers of spring. In addition to having an incredibly sweet taste, strawberries have anticancer and anti-inflammatory properties. Plus, when combined with mint and a lemony balsamic vinaigrette, they make for a salad that feels like Pop Rocks going off in your mouth.
-Rebecca Katz, author of The Longevity Kitchen cookbook
Ingredients
4 cups tightly packed baby arugula
1 cup thinly sliced fennel
12 strawberries, sliced
2 tablespoons chopped fresh mint
6 tablespoons Lemony Balsamic Vinaigrette
1/4 cup sliced almonds, toasted
Instructions
Put the arugula, fennel, strawberries, and mint in a large bowl and toss gently to combine.
Drizzle the vinaigrette over the top and toss again.
Scatter the almonds over the top.
Variations: Substitute toasted walnuts for the almonds. Feel free to add a bit of crumbled organic goat cheese.
Cook's Note: A mandoline
 (no, you can't strum it) is a handy kitchen tool that allows you to slice vegetables to a uniformed thickness – and perfect for the fennel in this recipe. There are many inexpensive handheld models available at kitchen stores and online.
Prep time: 15 minutes
Storage: If you must store the salad, don't add the dressing. After combining the greens, fennel, strawberries, and mint, store them in an airtight container in the refrigerator for one day at most.