Lemony Balsamic Vinaigrette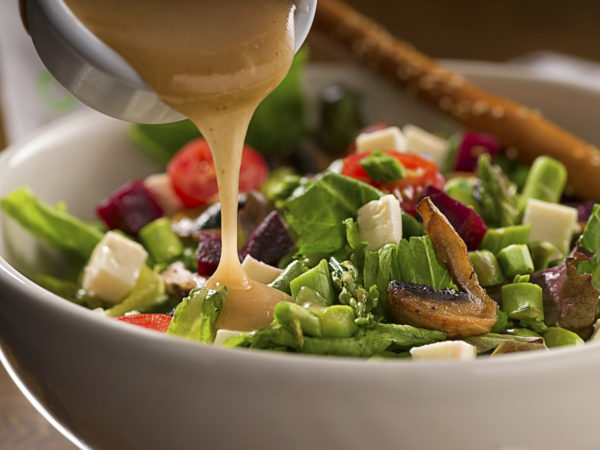 Nutrition
Makes 1/2 cup
Per serving: (2 tablespoons per serving)
Calories: 130
Total Fat: 14 g (2 g saturated, 11 g monounsaturated)
Carbohydrates: 2 g
Protein: 0 g
Fiber: 0 g
Sodium: 200 mg
Recipe courtesy of The Longevity Kitchen, by Rebecca Katz, MS
This light vinaigrette is easy to make and lends a tangy, refreshing flavor to all manner of foods!
The lemon zest and lemon juice brighten everything they touch, whether used as a marinade, a salad dressing, or just a drizzle. Since it could hardly be easier to make, I recommend keeping some on hand at all times. I know I do.
-Rebecca Katz, author of The Longevity Kitchen cookbook
Ingredients
2 tablespoons balsamic vinegar
2 tablespoons freshly squeezed lemon juice
1/2 teaspoon grated lemon zest
1/2 teaspoon sea salt
1/2 teaspoon freshly ground black pepper
1/4 cup extra-virgin olive oil
Instructions
Put the balsamic vinegar, lemon juice, lemon zest, salt, pepper, in a small bowl and stir to combine.
Slowly pour in the olive oil, whisking all the while, and continue whisking until smooth.
Transfer to a small container with a fitted lid and shake well.
Cook's Note: Add the salt with the acid but prior to adding the oil. The reason? The acid breaks down the salt, allowing it to do its job as a flavor carrier.
Try this dressing on Strawberry, Fennel & Arugula Salad!
Prep time: 5 minutes
Storage: Store in a glass jar in the refrigerator for up to 1 week.