Watermelon & Heirloom Tomato Salad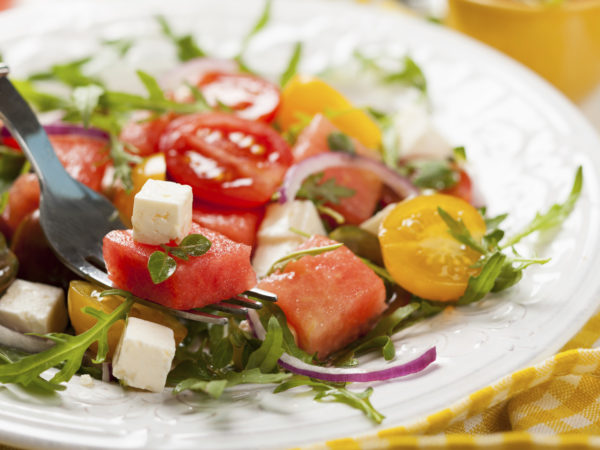 Nutrition
Serves 6
Nutrients per serving:
Calories: 570
Protein: 10.7g
Fat: 12.2g
Saturated Fat: 1.7g
Monounsat Fat: 8g
Polyunsat Fat: 1.7g
Carbohydrate: 122.3g
Fiber: 8.1g
Cholesterol: 0g
This recipe is courtesy of Dr. Weil's True Food Kitchen restaurant in Phoenix, Arizona.
Tomatoes and watermelon? Together? You'll be surprised how good something so simple can taste. This recipe is an ingredient match made in heaven!
Watermelons and tomatoes are a match made in heaven! Remember that this salad is only as good as the ingredients you put into it, so be sure to use organic, and if you can, local, produce! A True Food Kitchen recipe.
Food as Medicine

Watermelon and tomatoes are both abundant sources of lycopene, which has been found to be protective against cancer of the prostate, breast, lung and colon.
Ingredients
2 organic watermelons, peeled & cut into chunks
8 organic local heirloom tomatoes (various colors and sizes), cut up
24 mint or basil leaves
2 tablespoons red onion, sliced paper-thin
4 tablespoons extra-virgin olive oil
2 tablespoons white balsamic vinegar
Feta cheese, optional
Coarse sea salt, to taste
Pepper, to taste
Instructions
Arrange the pieces of watermelon and tomato on a serving platter. Sprinkle with mint/basil leaves and red onion. Drizzle with olive oil and vinegar. Finish with salt and pepper.