Minted Guacamole & Pomegranate Seeds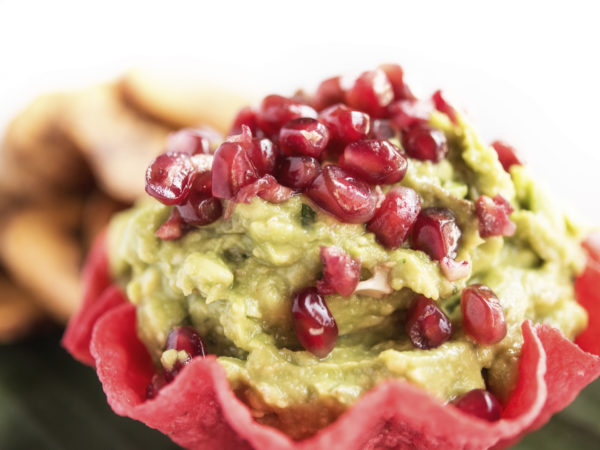 Nutrition
Makes 1 cup
Per Serving: (two tablespoons per serving)
Calories: 85
Total Fat: 7.5 g (1 g saturated, 5 g monounsaturated)
Carbohydrates: 5.5 g
Protein: 1 g
Fiber: 4 g
Sodium: 57 mg
Recipe courtesy of The Longevity Kitchen, by Rebecca Katz, MS
This recipe will light up your eyes, and then your tongue!
Cooks get their inspiration in the strangest places . . . like old ghost towns. No lie. For my fiftieth birthday, I met up with my best friend from back East in Jerome, Arizona. Once an abandoned copper mining town, it has transformed itself into a hip arts community with a hole-in-the-wall Southwestern restaurant that we serendipitously stumbled upon. We ordered guacamole, and it arrived studded with pomegranate seeds. Our eyes lit up, and then our tongues. As I recall, Jill said something like "Oh my! This is so good . . . and it looks like Christmas!" I took a mental snapshot of both the appearance and the flavor, and I've re-created it here.
-Rebecca Katz, author of The Longevity Kitchen cookbook
Ingredients
2 avocados, halved and flesh scooped out
2 tablespoons finely diced red onion
1 tablespoon finely chopped fresh cilantro
1 tablespoon finely chopped fresh mint
1 tablespoon freshly squeezed lime juice
1/4 teaspoon sea salt
Pinch of cayenne
3 tablespoons pomegranate seeds (see note*)
Instructions
Put the avocado in a bowl and mash with a fork until mostly smooth.
Add the onion, cilantro, mint, lime juice, salt, and cayenne and stir until well combined.
Stir in two tablespoons of the pomegranate seeds and garnish with the remaining tablespoon of pomegranate seeds.
Prep Time: 10 minutes
Storage: Store in an airtight container in the refrigerator for up to
three days.
*Cook's Notes: Here's a quick trick for removing pomegranate seeds from the fruit. Cut the pomegranate in half crosswise. Then, working over a large bowl, hold one half with the cut side facing down, into the bowl. Give the uncut side of the fruit a few good whacks with the back of a large wooden spoon to release the seeds. When pomegranates are in season, I buy several and store the seeds in an airtight container in the freezer to use throughout the year. They make any dish pop with color and flavor.
I like to serve this guacamole with jicama sticks. Take a vegetable peeler to the jicama, then cut it in half with a sharp knife. Cut the halves into 1/2-inch-wide strips, then turn the strips onto their side and repeat the process, cutting them into 1/2-inch-wide strips. To store the jicama strips, put them in a bowl, add cold water to cover, and mix in the juice of one lime or lemon. Cover and store in the refrigerator for up to three days.