Yogurt-Lime Drink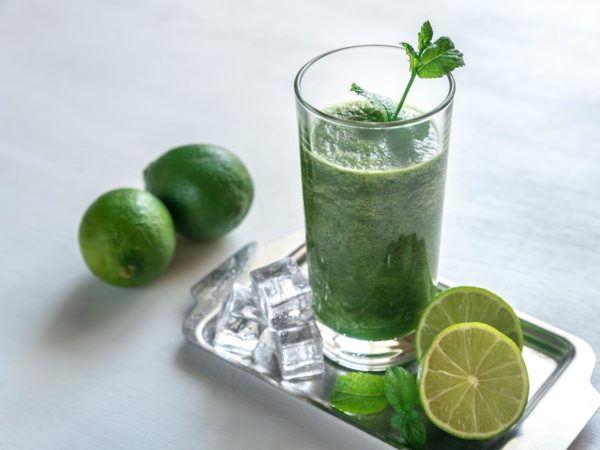 This versatile beverage may be made with just yogurt, or you may blend in various fruits. The coconut milk, cinnamon and cloves provide a mellow flavor.
This is a versatile beverage because you have the choice of making it with just yogurt; adding fruit and blending it just enough to transform the drink into a whipped, frothy, chunky fruit beverage; or adding frozen fruit to create a dessert drink.
Food as Medicine
Coconuts and coconut oil are high in lauric acid and contains trace amounts of caprylic acid, both of which appear to have antiviral and antifungal properties, and support immune function. According to the USDA, one lime contains 1.9 grams of fiber and 19.5 milligrams of vitamin C, as well as small amounts of iron, potassium, zinc, and calcium.
Ingredients
1/3 cup freshly squeezed lime juice
1 cup plain yogurt
1/3 cup honey
2 cups purified water
1 tablespoon pure vanilla extract
1/8 teaspoon ground cloves
1/8 teaspoon ground nutmeg
14 ounces canned light coconut milk
1/8 teaspoon ground cinnamon
Instructions
Mix the ingredients together in a bowl. Chill for 2 hours. Pour into 8-ounce glasses, sprinkle cinnamon on top, and serve.
** In light of recent research, Dr. Weil no longer recommends reduced-fat dairy products unless you happen to prefer the taste.
Tips from Rosie's Kitchen:
To create a Tropical Shake: Add 2 cups frozen fruit, or 1 cup fresh fruit and 1 cup ice. I recommend papaya or peeled and sliced peaches (about 1/2 papaya or 3 peaches). Use a blender to blend everything together. Garnish with a sprinkling of cinnamon and a straw.
Peach-Yogurt Lime Drink: For a different kind of fruit taste and some festivity, add 1 pitted peach, sliced in half, to the yogurt-lime drink and pulse it in the blender just enough to blend the fruit but maintain some chunks. Pour 1/2 cup into each of 6 cups and serve. The delicate chunks of peach will color the frothy coconut milk with hues of red, pink, and yellow.
Andy Suggests:
I would also substitute cashew milk for the coconut milk.