Roasted Glazed Butternut Squash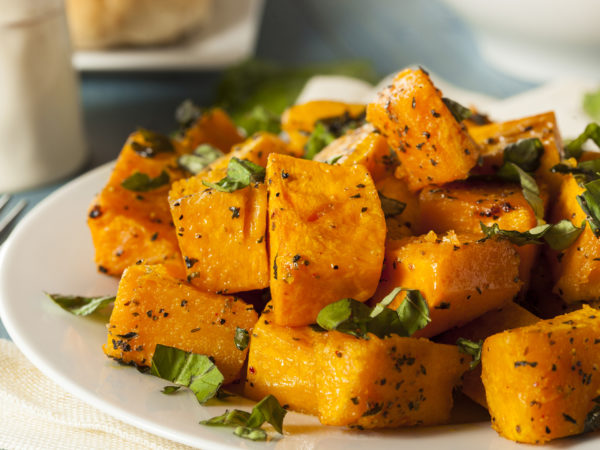 Nutrition
Serves 4
Nutrients per serving:
Calories 186.5
Fat 4.8 g
Saturated fat 2.8 g (21.8% of calories from fat)
Protein 9.8 g
Carbohydrate 29 g
Cholesterol 12.3 mg
Fiber 0 g
Butternut Squash is the perfect complement to cold-season family meals and is rich in essential nutrients.
Butternut squash is the quintessential winter vegetable, the perfect complement to everyday cold-season family meals or lavish holiday celebrations. It can be pureed, mashed and baked into pies or breads, but I prefer this Italian-influenced version, which preserves the unique, yielding texture of the flesh. The nutty sweetness of the butternut finds the perfect counterpoint in tangy balsamic, rich olive oil and sharp, aged cheeses. Don't forget to save the edible seeds – roast on a cookie sheet at 170° F. for about 20 minutes.
Food as Medicine
Winter squashes, including the butternut, are rich sources of vitamin A; a cup of baked flesh provides 214 percent of the Daily Value for this vital nutrient. Also, though rich in carbohydrates, many of the butternut's carbs come from pectins that appear to have antioxidant, anti-inflammatory and insulin-regulating properties.
Ingredients
2 medium butternut squash (or other winter squash), peeled, seeded, and cut in 2″ cubes
3/4 cup stock
1/4 cup balsamic vinegar
2 Tbl extra-virgin olive oil
1/2 tsp salt
12 sage leaves, cut into long, thin strips
3/4 cup freshly grated Parmesan or Grana Padano cheese
Instructions
Preheat oven to 400° F.
Add squash to cold water to cover. Bring to boil and cook until just tender when pierced with a knife. Drain.
Place the boiled squash in a roasting pan. Add remaining ingredients except cheese and toss. Sprinkle with the cheese. Roast uncovered for 30 minutes or until golden on top. Serve hot.
Want more healthy, delicious recipes? Join the Dr. Weil on Healthy Aging online guide for access to hundreds of anti-inflammatory recipes and our exclusive eating guides. Sign up today and get 14 days free!