Vegetarian Shepherd's Pie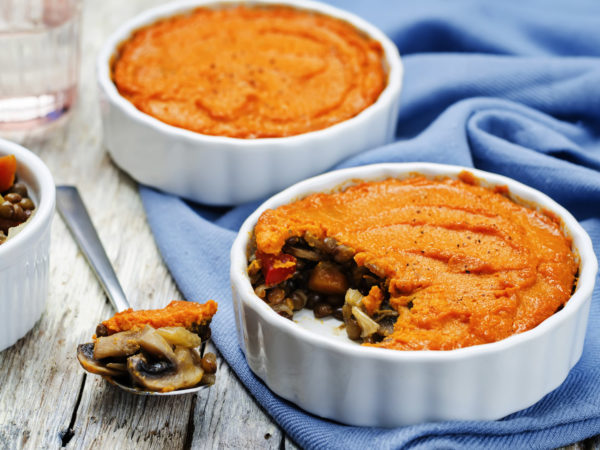 Nutrition
Serves 6 as a supper entrée (or 12 as a side dish)
Nutrients Per Serving:
Calories 503.1
Fat 6.8 grams
Saturated Fat 1.1 grams
(11.8% of calories from fat)
Protein 22.8 grams
Carbohydrate 92.2 grams
Cholesterol 0 mgs
Fiber 22.3 grams
This recipe is from THE HEALTHY KITCHEN – Recipes for a Better Body, Life, and Spirit by Andrew Weil, M.D and Rosie Daley (Knopf)
This recipe is a twist on the traditional shepherd's pie using sweet potatoes, lentils, and sweet zucchini!
Traditional shepherd's pie is usually made with ground meat and white potatoes. This one has sweet potatoes mixed in. The curried lentil filling is sandwiched between two layers of creamy potato filling that are sitting on a crouton crust which is baked on top of sweet zucchini. Serve this as an entree with a simple chopped tomato salad.

Food as Medicine
The heart-protective phytochemical content of potatoes is comparable to that of vegetables such as broccoli and spinach. New and sweet potatoes have the lowest glycemic load in the potato category, so they are especially good choices. Potatoes are full of flavonoids (a type of antioxidant) known to help protect against respiratory disorders, certain cancers and heart disease. Potatoes also contain rare blood pressure-lowering compounds called kukoamines, although it has not yet been established if the amount of these compounds in a serving of potatoes is enough to have an effect on human blood pressure levels. Potatoes are a good source of vitamins C – one cup of baked potato contains 26 percent of the Daily Value – and B6. Lentils, rich in cholesterol-lowering fiber, are another heart-healthy choice. They contain folate, a vitamin that helps to convert homocysteine (an amino acid that in high concentrations has been associated with an increased risk of blood clotting, heart attack and stroke) into other, benign molecules; and magnesium, a natural calcium channel blocker that relaxes blood vessels and may reduce the risk of heart attack.
Ingredients
2 medium or large sweet potatoes, peeled and cubed
6 medium or large white potatoes, peeled and cubed
1 tablespoon extra-virgin olive oil
1 tablespoon Italian seasoning
1 tablespoon Cajun seasoning
Curried Lentil Filling:
3 1/4 cups purified water
1 bay leaf
1 cup lentils
2 teaspoons Cajun seasoning
1 cup sliced onions
2 cloves garlic
1 cup sliced shiitake or button mushrooms
1/2 cup broccoli florets
1/2 cup yellow or red bell pepper
1 tablespoon extra-virgin olive oil
2/3 cup nutritional yeast
1 teaspoon curry powder
1 teaspoon salt
1 tablespoon cornstarch
1 zucchini, cut in rounds (about 2 cups)
1 cup bread crumbs or premade croutons
Garnish:
1/2 cup thinly sliced scallions or green onion
Instructions
Preheat oven to 350º F.
Bring a large pot of water to a boil. Drop the cubed sweet and white potatoes into the water and simmer for 45 minutes. They should be easily pierced with a fork.
Strain the potatoes, reserving 2 cups of the water.
Pour 1 cup of the water back into the pot and mash the potatoes using a potato masher or a large fork.
Add the olive oil, Italian seasoning and Cajun seasoning and mash again until seasonings are completely blended into the potatoes.
Meanwhile, cook the lentils:

Bring 3 cups of the water to a boil.
Add the bay leaf, lentils and Cajun seasoning and cook for 45 minutes.
Remove from heat when completely cooked and let cool briefly. Drain off any liquid.

Sauté the onions, garlic, mushrooms, broccoli and bell peppers in the olive oil in a large saucepan until the onions are transparent and limp, about 4 minutes.
Add the reserved cup of potato water, nutritional yeast, salt and curry powder and stir until everything is blended in.
Add to the cooked lentils.
Dissolve the cornstarch in the remaining 1/4 cup water and stir it into the lentil and vegetable mixture.
Continue to cook for 3 more minutes, until the sauce thickens. Remove from heat.
Line the bottom of a casserole dish with the zucchini rounds.
Sprinkle half of the bread crumbs or croutons on top of the zucchini.
Spoon out 4 cups of the mashed potatoes and spread across the zucchini rounds.
Spoon out 2 cups of the curried lentils and spread on top of the potatoes.
Spoon the remainder of the mashed potatoes and smooth them out on top. Sprinkle the rest of the bread crumbs and the scallions or green onion on top.
Bake for 50 minutes. Let cool for 15 minutes before cutting and serving.
Tip from Rosie's Kitchen:
Nutritional yeast is high in B vitamins, and it is often sprinkled over various foods for added flavor. You can find it in health food stores.