Potlatch Pilaf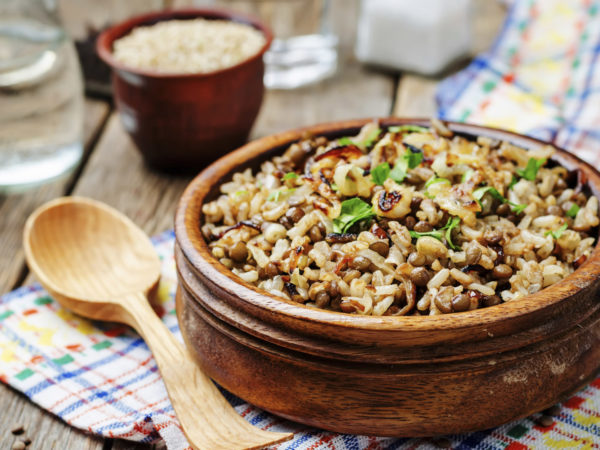 Nutrition
Serves 4
Nutrients Per Serving:
Calories 258.1
Fat 7.7g
Saturated Fat 1g
(30.2% calories from fat)
Protein 7.1g
Carbohydrate 40.5g
Cholesterol 0mg
Fiber 3.7g
Recipe and photo courtesy of Bluebird Grain Farms, Winthrop, Washington.
This is a great "make-ahead" meal from which you can pack lunches for the rest of the week.
While this recipe can be made with a variety of grains, it's worth the effort to seek out farro – also known as emmer wheat – to use in its preparation. This ancient strain has been under continuous cultivation for more than 9,000 years. I find it much tastier than modern wheat, with a deep, complex flavor and somewhat softer texture that really makes this dish sing. Pilaf keeps for several days in the refrigerator – this is a great "make-ahead" meal from which you can pack lunches for the rest of the week.

Food as Medicine
Farro offers a higher protein content than modern wheat varieties, and many people who are sensitive to gluten report that they can tolerate farro better.
Ingredients
2 Tbl extra-virgin olive oil
1 cup chopped onion or shallot
1/2 cup sliced carrot
1/2 cup diced celery
1/2 cup sliced shiitake mushrooms, optional
1 cup Potlatch Pilaf (or 1/2 cup golden farro splits, 1/2 cup dark wild rice)
1/4 cup dry sherry or white wine
2 cups vegetable broth
salt and freshly ground black pepper to taste
1/4 cup chopped fresh parsley or a mixture of parsley and other fresh herbs (chive, tarragon, chervil) or add 2 tsp of dried herbs to pilaf while it cooks
Instructions
Heat oil in a saucepan over medium heat. Add vegetables and sauté for 3 minutes, stirring frequently.
Add salt and pepper to taste and the Potlatch Pilaff. Cook, stirring, for another 3 minutes.
Add wine and cook until it almost evaporates. Add broth, stir well. (Add dried herbs if using.)
When mixture begins to boil, lower heat and simmer, covered, for about 30 minutes or until liquid is almost all absorbed.
Turn off heat, add fresh herbs, mix well, correct seasoning, and let sit, covered, for 10 minutes.