Tuscan Bean Soup With Farro & Swiss Chard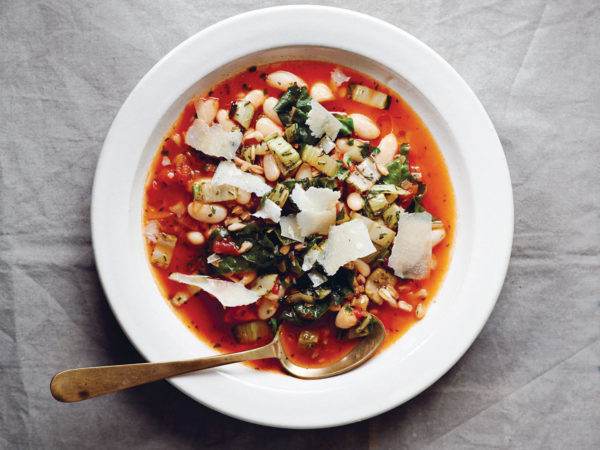 Nutrition
Serves 6
(nutrition facts not available)
Recipe is courtesy of Dr. Andrew Weil's Garden to Table Cooking – a recent publication with over 75 of his collected favorites!
White beans or cannelini are an especially good source of fiber. They are a close relative of the dark red kidney beans – both hold their shape and absorb flavors extremely well, making them an excellent choice for soups such as this one, and stews.
This version of a classic main-dish soup from Tuscany makes use of canned white beans to save time. You can use Tuscan kale in place of chard if you wish. I like to serve this with extra grated Parmesan and red pepper flakes on the side as well as a cruet of very flavorful olive oil for your guests to drizzle over the soup.
Ingredients
3 tablespoons extra-virgin olive oil
1 onion, diced
½ teaspoon plus a pinch of sea salt
4 cloves garlic, pressed and allowed to sit for 10 minutes
Generous pinch of crushed red pepper flakes
3 tablespoons tomato paste
½ bunch Swiss chard, stems removed and chopped into bite-size pieces, leaves torn into bite-size pieces
1 tablespoon minced fresh thyme or 1 teaspoon dried thyme
1 teaspoon minced fresh rosemary or ¼ teaspoon dried rosemary
1 Turkish bay leaf or ⅓ of a California bay leaf
1 (14.5-ounce) can diced tomatoes, drained and juices reserved
8 cups vegetable broth
¾ cup cooked farro
1 (15-ounce) can cannellini or great northern beans, rinsed and drained
2 tablespoons chopped fresh flat-leaf parsley leaves
1 tablespoon chopped fresh oregano
1 teaspoon lemon juice
Freshly ground black pepper
Shaved Parmesan cheese
Instructions
Heat the olive oil in a soup pot over medium heat. Add the onion and a pinch of salt and sauté until the onions are golden, about 4 minutes. Add the garlic and red pepper flakes and sauté for another 30 seconds. Push the onions and garlic to the side and sauté the tomato paste for about 1 minute. Add the chard stems, thyme, rosemary, and bay leaf, stirring to combine.
Pour in the reserved tomato juice to deglaze the pot and cook until the liquid is reduced by half, about 2 minutes. Add the diced tomatoes, stock, and remaining ½ teaspoon salt. Increase the heat to high and bring to a boil.
Reduce the heat to medium-low and add the farro and beans. Cook for another 3 minutes, until the beans and farro are heated through.
Stir in the chard leaves, parsley, oregano, and lemon juice. Adjust the seasoning with black pepper and another pinch or two of salt, if needed, and garnish each bowl with a generous shaving of Parmesan cheese.
Excerpted from Fast Food, Good Food, copyright © 2015 by Dr. Andrew Weil. Photography courtesy of Ditte Isager. Used with permission of Little, Brown and Company, New York. All rights reserved.