Brown Rice Soup With Asparagus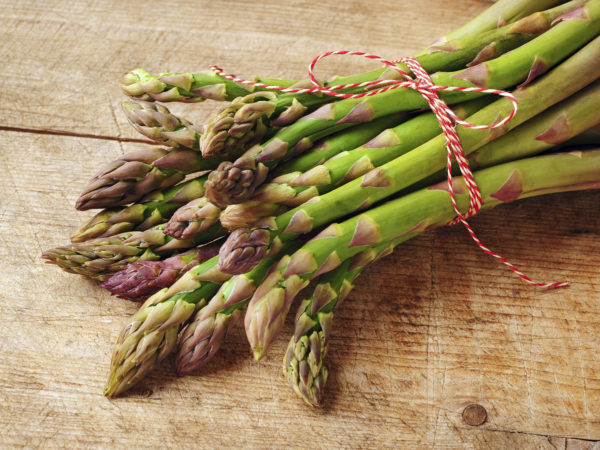 Even those who find brown rice an austere, Spartan food will enjoy it in this savory vegetarian soup, which can serve as a one-dish meal.
This soup is chunky and thick with vegetables and rice so it can stand on its own with no real need for a side dish. And it's healthy. I serve soups with a warm baguette.
Food as Medicine

Asparagus is among the richest food sources of folate, which helps to keep blood levels of homocysteine, an amino acid, in check. High homocysteine levels have been linked to atherosclerosis.
Ingredients
3/4 cup brown rice
1/4 cup wild rice
2 teaspoons salt or to taste
1 bunch asparagus
1 tablespoon olive oil
2 celery stalks, chopped fine (about 2⁄3 cup)
1/2 onion, chopped fine (about 1⁄3 cup)
1 small carrot, chopped fine (about 1⁄3 cup)
1/2 teaspoon dried thyme
6 cups vegetable stock
2 tablespoons minced scallions or green onions
1 tablespoon chopped fresh parsley
1 tablespoon natural soy sauce (such as tamari)
1/2 teaspoon hot pepper sauce Freshly ground black pepper (to taste)
GARNISH
Parsley sprigs
Instructions
Put the rice with the salt in 3 cups of water in a medium saucepan. Bring it to a boil, reduce the heat, cover, and simmer until the rice is tender and the water is absorbed, about 45 minutes.
Trim the tough ends off the asparagus stalks and discard. Steam the asparagus until tender yet crisp, about 2 minutes. Drain it in a colander, then rinse under cold water. Let the asparagus cool for a few minutes. When completely cooled, cut into 1-inch pieces, reserving 1⁄4 cup of tips for garnish.
Coat the bottom of a large pot with the olive oil. Add the celery, onion, carrot, and thyme. Cover and cook over low heat for 4 minutes, stirring occasionally, until tender.
Add the vegetable stock and cooked rice and bring to a boil. Reduce the heat, cover, and simmer for 10 minutes. Remove from the heat and let cool a bit.
Carefully transfer small batches to a blender and blend until smooth. Return all the blended mixture to a pot. Stir in the asparagus, scallions, parsley, soy sauce, pepper sauce, and ground pepper.
Return to a simmer for 2 minutes. Ladle into bowls and garnish with reserved asparagus tips and parsley sprigs.