Best-Ever Tofu Burger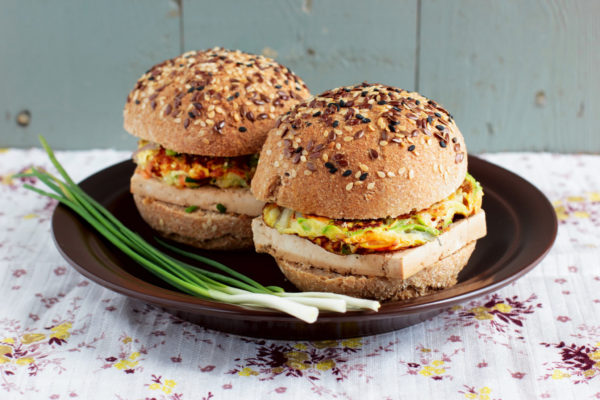 Nutrition
Makes 6 large burgers
Nutrients Per Serving
Calories 244
Fat 11.75g
Saturated Fat 1.5g
(11% calories from fat)
Protein 24.25g
Carbohydrate 9.5g
Cholesterol 0mg
Fiber 3.25g
Recipe from The Almost No-Fat Cookbook, by Bryanna Clark Grogan
These easy and healthy tofu veggie burgers receive an added flavor boost from garlic granules, mushroom soy sauce, and Vegemite.
Slices of frozen tofu provide the "chewiness" associated with a truly good burger. The dark marinade lends a "meaty" flavor and moist juices. Serve on sprouted rolls with tofu mayonnaise. The marinade provides a complex, savory flavor. Perfect for a summer picnic.
Food as Medicine
Like all whole soy foods, tofu contains phytoestrogens known as isoflavones that can provide menopausal women with enough estrogen to prevent and alleviate symptoms such as hot flashes. Furthermore, a four-ounce serving of calcium-set (using calcium as a coagulate) tofu provides approximately 10 percent of the Daily Value in calcium, a mineral that may prevent the accelerated bone loss that often accompanies menopause.
Ingredients
2 lbs. medium-firm or firm tofu (NOT silken tofu), frozen at least 48 hours
Marinade:
1 1/2 cups water
2 tablespoons soy sauce (regular or mushroom)
2 tablespoons ketchup (fruit-juice sweetened, cane-sugar sweetened, or organic)
2 teaspoons Marmite, Vegemite or other yeast extract (gives a "beefy" flavor) or 4 teaspoons red miso
1/4 teaspoon garlic granules
1/4 teaspoon dried oregano
1/4 teaspoon dried basil
1/4 teaspoon onion powder
Instructions
1. Thaw out the tofu. Slice each pound block into three thick slices. Place the slices on a cookie sheet covered with a couple of clean, folded tea towels. Cover the slices with more tea towels and another cookie sheets. Weigh this arrangement down with something heavy for about 15-20 minutes. Now the tofu slices are ready for marinating.
2. Mix the marinade ingredients together and pour over the prepared tofu slices in a shallow container in one layer. Cover and let marinate for several hours or days.
3. Just before serving, pan-fry on a lightly-oiled heavy skillet or nonstick skillet over medium-high heat until browned on both sides. Or cook on an indoor grill. Serve on buns with all the trimmings.