Smoked Fish With Horseradish Sauce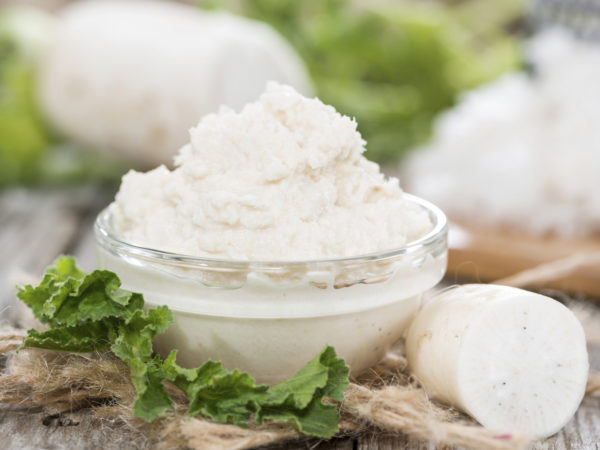 Nutrition
Serves 4
Nutrients Per Serving:
Calories 170
Fat 3g
Saturated Fat 2g
(16% of calories from fat)
Protein 30g
Carbohydrate 5g
Cholesterol 47mg
Fiber 0.5g
This recipe is from THE HEALTHY KITCHEN – Recipes for a Better Body, Life, and Spirit by Andrew Weil, M.D and Rosie Daley (Knopf)
This horseradish suce recipe is the perfect condiment for fish, boiled or baked potatoes, and other cooked vegetables. Try it on your favorties!
If you have never dealt with a fresh horseradish root, be prepared for an experience. In the days before food processors, grating the root by hand was just like being exposed to tear gas. Freshly ground horseradish with vinegar and a little salt completely outclasses the prepared varieties sold in stores, and mixed with sour cream, it becomes a wonderful condiment for fish, boiled or baked potatoes, and other cooked vegetables.
Food as Medicine
Freshly prepared horseradish, like hot mustard and wasabi, can help to liquefy bronchial secretions and clear congestion.
Ingredients
1/2 cup sour cream
Smoked fish, such as salmon, trout or whitefish, 2-4 ounces per person
2 tablespoons Horseradish sauce or more to taste
1 medium sweet onion, finely chopped
Horseradish Sauce:
1 cup fresh horseradish root, peeled and cut into 1/2-inch cubes
1/4 cup white vinegar, or more if necessary
1/2 teaspoon salt
Instructions
1. Mix the sour cream with the prepared horseradish.
2. Serve individual portions of smoked fish, accompanied by the chopped onion and additional horseradish sauce.
Preparing The Horseradish Sauce:
Put the horseradish root cubes in a food processor and grind them to fine particles. This will take 3-4 minutes. Be careful not to inhale the fumes – they can be very irritating.
Pour the white vinegar onto the ground horseradish until it is thoroughly moist.
Season with salt and mix well.
Store the prepared horseradish in the refrigerator in a tightly covered container and use it as a condiment.