Chickpea & Broccoli Masala Curry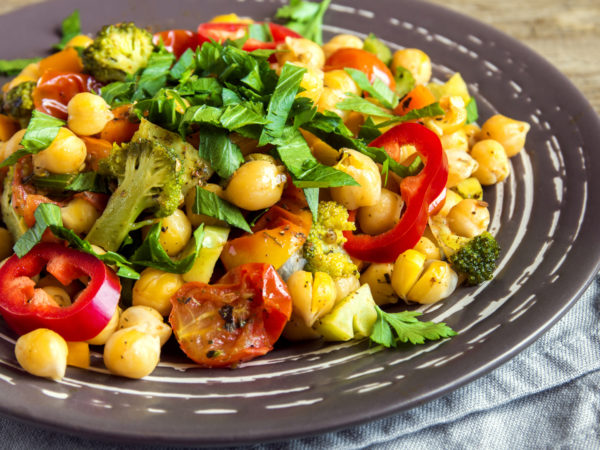 Nutrition
Serves 4 + vegan, gluten free
Nutrients Per Serving:
Calories 348
Fat 15.9 grams
Saturated Fat 8.3 grams
(38.2% of calories from fat)
Protein 13.0 grams
Carbohydrate 44.9 grams
Cholesterol 1.9 mgs
Fiber 10.7 grams
Recipe courtesy of Hollyhock, from the cookbook Hollyhock Garden to Table.
Just enough bite of chili balanced with the creaminess of blended cashews and fresh broccoli.
If there was ever a dish that one would propose marriage to on a misty fall evening, this would be it. Just enough bite of chili balanced with the creaminess of blended cashews and crunchy fresh broccoli and a smattering of cilantro to garnish. Mouthfuls of matrimony.
Food as Medicine
Chickpeas can provide 50 percent of the Daily Value of fiber (some of which is insoluble, which supports digestive health). A cup of chickpeas also supplies 70 percent of the Daily Value of folate and 85 percent of manganese. Manganese is part of a unique combination of antioxidants found in garbanzos that, together, combat oxidative stress, reducing the risk of heart disease, as well as protecting the respiratory and nervous systems.
Ingredients
1/3 cup toasted cashew pieces
1 cup water
1 tbsp coriander seeds
2 tsp cumin seeds
1″ cinnamon stick
3 cloves
2 tbsp coconut oil, butter or ghee
3 cups diced onion
1 clove garlic, minced
1 tbsp finely grated fresh ginger
1 tsp salt
1 tsp turmeric powder
1/2-1 tsp chili flakes
1 1/2 cups cooked chickpeas
1 cup chopped fresh or canned tomatoes
3 cups broccoli florets
1/2 cup yogurt (optional)
chopped cilantro, for garnish
Instructions
In a blender, combine cashews and water on high speed for 30 seconds. Set aside.
In a small dry skillet, toast coriander, cumin, cinnamon stick and cloves on medium heat until the seeds start to brown and smell fragrant. Allow to cool before grinding in a spice or coffee grinder until fine.
In a medium saucepan, heat oil, butter or ghee and sauté onions with garlic, ginger and salt for 2 minutes, until onions are translucent.
Add turmeric, chili flakes, chickpeas and ground spice mix and continue to sauté for 2 minutes.
Reduce heat to low and stir in the cashew liquid. Simmer for 2 minutes before adding the tomatoes.
Slowly continue to heat the curry for at least 5 minutes. Add the broccoli florets and optional yogurt 2 minutes before serving. Stir and simmer just until the broccoli is tender.
Salt as needed. Serve over rice, garnished with cilantro.
Cook's Tip: Don't be afraid of salt. Since you're cooking with fresh food instead of packaged, you're starting out with much less sodium to begin with. Salt enhances the flavors in food and makes everything taste better, especially in Indian food. If a dish is lacking in something, chances are it's salt.
– Moreka Jolar