Pink Lentil Curry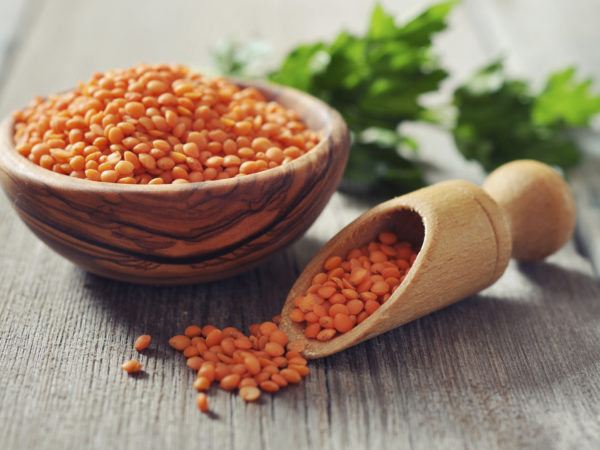 Nutrition
Serves 6
Nutrients Per Serving
Calories: 482.8
Protein: 23.6 grams
Fat: 3.6 grams
Saturated Fat: 0.4 grams
Monounsat Fat: 1.5 grams
Polyunsat Fat: 1.3 grams
Carbohydrate: 90.2 grams
Fiber: 18.2 grams
Cholesterol: 0.0 mg
Vitamin A: 1,771.0 IU
Vitamin E: 0.8 mg/IU
Vitamin C: 15.5 mg
Calcium: 80.6 mg
Magnesium: 102.0 mg
This dish is filled with exotic flavor and healthful lentils. Serve as an entrée or side dish! Lentils, a staple ingredient in Indian cooking, come in many hues. This tasty vegan dish uses pink lentils, available at specialty stores and some supermarkets.
Lentils are a wonderful source of protein, calcium and iron. They are a staple ingredient in Indian cooking, and combine well with many different seasonings. You may be most familiar with brown or green lentils, but did you know lentils can also be black, yellow and pink? Look for these more exotic varieties in Indian and specialty food stores. Similarly, not all curry powders are the same, ranging from quite mild to very hot. In making this dish, start with a small amount and taste it to be sure your dish meets the comfort and taste level of your guests. This dish is filled with exotic flavor and can be served as an entrée with rice or as a side dish alone.
Food as Medicine
Turmeric is a major component of curry. In one study, two important enzymes (UDP glucuronyl transferase and glutathione-S-transferase) that help the liver detoxify blood were elevated in rats that were fed turmeric as opposed to the controls. This suggests turmeric can help support liver function. Ginger is full of anti-inflammatory compounds called gingerols, making it an effective pain reliever for those with arthritis, and is often prescribed for motion sickness and other gastrointestinal issues. Just one cup of cooked lentils has over 15 grams of fiber; soluble fiber helps ferry cholesterol out of the body by binding to cholesterol-containing bile acids. One study found that high consumption of legumes such as lentils resulted in an 82 percent reduction in the risk of death from heart disease.
Ingredients
1 pound pink lentils
1 tablespoon expeller-pressed canola oil
1/2 cup carrots, chopped
1/2 cup celery, chopped
1 cup onion, chopped
2 cup cabbage, chopped
Curry powder to taste
4 cloves garlic, mashed
1 tablespoon chopped gingerroot
1 tablespoon soy sauce, or to taste
4 cups hot cooked rice
Instructions
Pick over lentils, removing any stones or foreign matter. Place in a bowl or colander and rinse thoroughly.
Place lentils in pot with enough cold water to cover well. Bring to a boil, lower heat, and cook, partially covered, until lentils become a thick mush (about one hour).
Meanwhile, heat canola oil in skillet, add vegetables and a little water, stir and cover.
Cook, stirring occasionally, until vegetables are barely tender.
Add curry powder, garlic and ginger. Stir, then replace cover and simmer until vegetables are tender.
Add vegetables and soy sauce to lentil mixture. Toss together, correct seasonings, and simmer for 10 minutes to blend flavors.
Serve with rice.