Salmon Kasu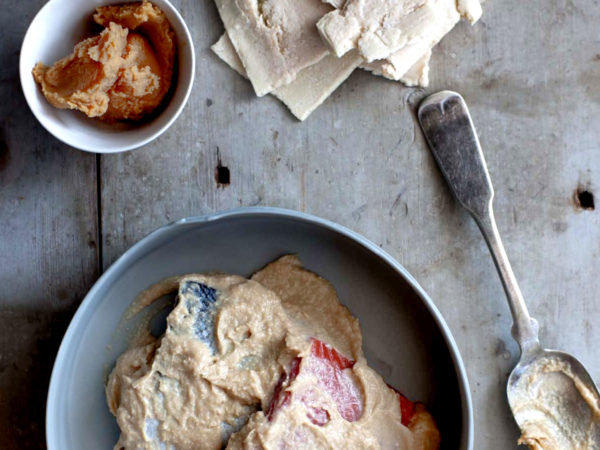 Nutrition
Makes 4 Servings
Nutrients Per Serving:
Calories 361.6
Fat 11.7 grams
Saturated Fat 1.6 grams
(34% of calories from fat)
Protein 40.8 grams
Carbohydrate 13 grams
Cholesterol 90.1 mgs
Fiber 0.9 grams
This recipe is courtesy of Dr. Weil's cookbook: True Food: Seasonal, Sustainable, Simple, Pure.
Kasu comes packaged in soft, beige cakes and has a deep, intriguing flavor to marinades and pickles.
Kasu, the lees (residue) from brewing vats of Japanese rice wine (sake), comes packaged in soft, beige cakes, available at Japanese and some Asian groceries and online sites. It has a tantalizing, yeasty aroma and adds a deep, intriguing flavor to marinades and pickles. To avoid overcooking salmon or any fish, take it off the heat before you think it's done. A True Food Kitchen exclusive! 
Food as Medicine
The heart healthy omega-3 fatty acids in salmon get most of the attention, but this delicious fish is also one of the best dietary sources of vitamin D. A four-ounce portion contains 247 percent of the Daily Value for this vital nutrient. That's important, as vitamin D deficiency is widespread in the developed world.
Ingredients
1/4 cup sake
1/3 cup kasu (sake lees)
1/4 cup white (shiro) miso
1/4 cup water
1 tablespoon dark brown sugar
1 tablespoon low-sodium soy sauce
4 6-ounce salmon fillets
1 teaspoon expeller pressed canola oil
Instructions
Heat the sake in a saucepan over low heat for 5 minutes. Remove from the heat and put the sake, kasu, miso, water, sugar, and soy sauce in a food processor. Blend until the mixture has the consistency of wet sand.
Spread one-third of the paste over th ebottom of a baking pan large enough to hold the salmon in a single layer. Arrange the salmon on top of the paste and spread the rest on top of the salmon. Cover and refrigerate for 12 to 48 hours.
Preheat the oven to broil or preheat the grill to medium-high. Scrape the kasu paste from the salmon and pat the fish dry with paper towels. Lightly brush the fish with the oil and broil or grill the fish until just done, 10 to 12 minutes. Serve immediately.