Potato-Rosemary Crusted Fish Fillets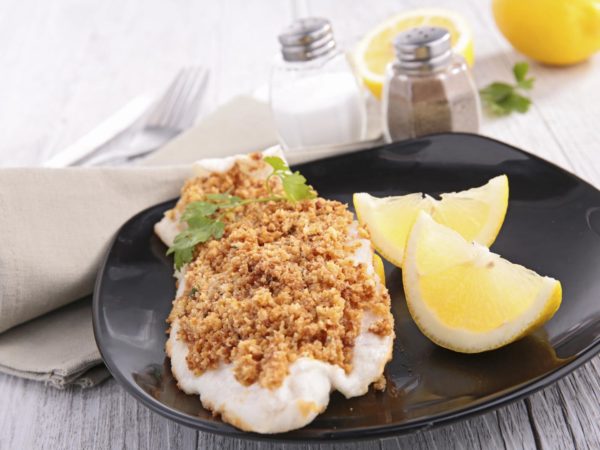 Nutrition
Serves 2
Nutrients Per Serving
Calories: 307.0
Protein: 34.1 grams
Fat: 12.5 grams
Saturated Fat: 2.0 grams
Monounsat Fat: 7.3 grams
Polyunsat Fat: 2.3 grams
Carbohydrate: 13.3 grams
Fiber: 1.2 grams
Cholesterol: 67.3 mg
Vitamin A: 284.4 IU
Vitamin E: 2.0 mg/IU
Vitamin C: 20.9 mg
Calcium: 20.1 mg
Magnesium: 59.1 mg
This dish has a subtle flavor of rosemary. Pair with steamed asparagus and a large green salad with tomatoes!
This simple fish dish is quite elegant with its aromatic flavor of rosemary. Don't worry about a few shreds of potato that remain in the skillet. Serve them over the fish. Pair this entrée with steamed asparagus and a large green salad with tomatoes.
Food as Medicine
People who eat fish regularly have a much lower risk of heart disease and heart attack than people who don't consume fish. Cod is also a good source of vitamin B6 and vitamin B12.
Ingredients
12 ounces thick fish fillet, such as cod or halibut, cut in half
1 small potato, about 5 ounces
Salt and black pepper to taste
1/4 teaspoon dried rosemary leaves, crushed
1 tablespoon extra-virgin olive oil
Instructions
Rinse the fish under cold running water and pat dry.
Sprinkle with salt and pepper to taste.
Peel the potato and grate on the large holes of a grater.
Squeeze excess water out of the potato by pressing between sheets of paper towel.
Season the potato with salt, pepper and rosemary and press it around the fish.
Heat a nonstick frying pan over medium-high heat and add olive oil.
Gently slide the fish into the pan. Cook for 3 to 5 minutes.
Turn fish over, using two spatulas, and cook for 3 to 5 minutes more or until potatoes are golden and fish is done.