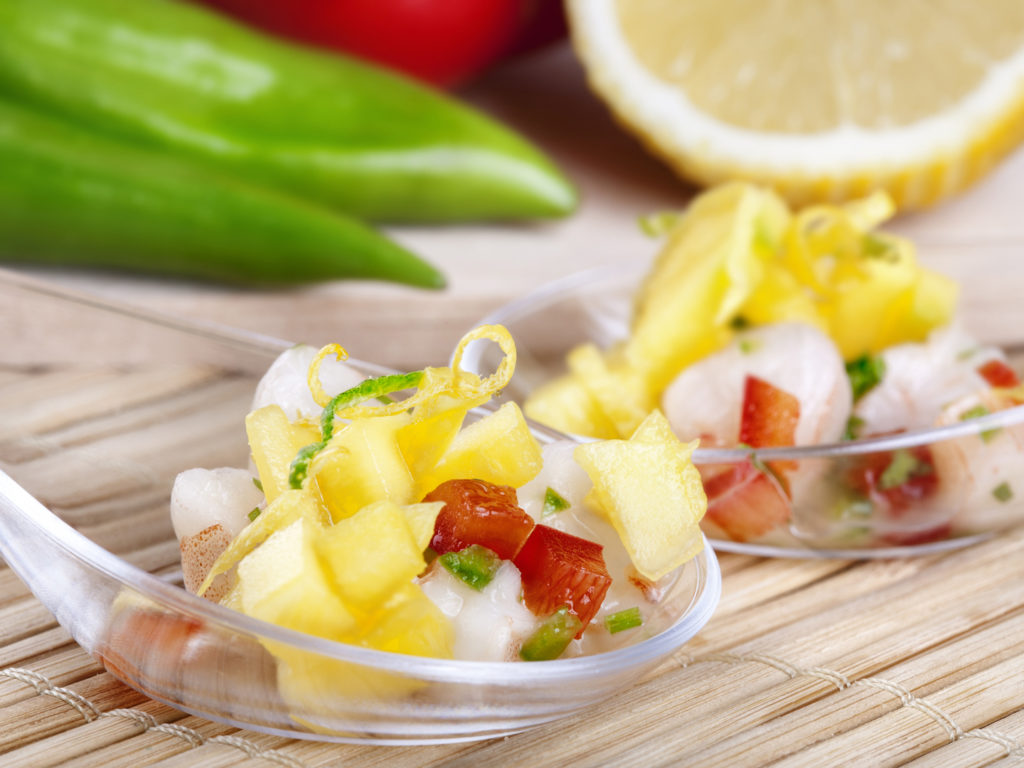 Shrimp and Mango Ceviche
Nutrition
This recipe is from the cookbook, Mindful Eating from internationally renowned, award-winning Miraval Resort & Spa in Tucson, Arizona.
Serves 4
Nutrients per serving:
Calories 68
Fat .7 g
Saturated fat 0.1 g (9.4% of calories from fat)
Protein 8.2 g
Carbohydrate 7.1 g
Cholesterol 71.4 mg
Fiber .6 g
Sweet mango, salty shrimp and tart lime balance each other beautifully in this light dish – great for a quick meal or as an elegant appetizer!
Ingredients
1/2 cup chopped and peeled fresh mango
1/2 cup fresh lime juice
1 tablespoon minced red onion
1 tablespoon minced red bell pepper
1 tablespoon chopped fresh cilantro
2 teaspoons minced garlic
1 1/2 teaspoons minced jalapeno
1 teaspoon hot red pepper sauce, such as Cholula
1/8 teaspoon kosher salt
8 ounces shrimp, peeled, deveined, and cut into 1/4-inch pieces
Instructions
Combine all of the ingredients except the shrimp in a medium non-reactive bowl and stir well.
Add the shrimp and toss to coat with the marinade. Cover and refrigerate, stirring every 30 minutes, until the shrimp is opaque in color, 4 hours and up to 12 hours.
Arrange the ceviche in a decorative bowl or martini glass and serve chilled.