Smoky Roasted Chickpeas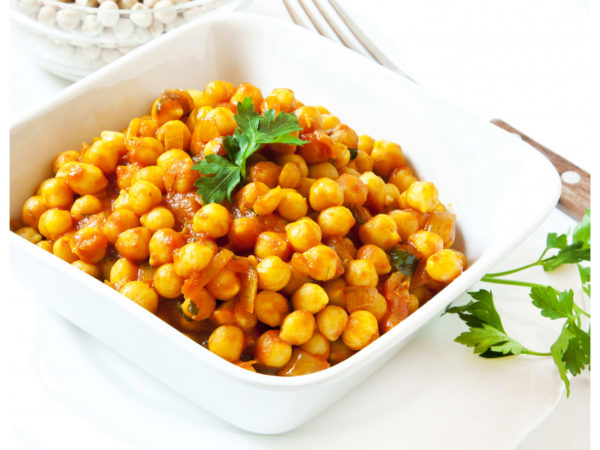 Nutrition
Makes 5 Servings (1/2 cups/serving) + vegan, gluten free
Nutrients Per Serving:
Calories 197
Fat 6.8 grams
Saturated Fat 0.9 grams
(30.7% of calories from fat)
Protein 6.2 grams
Carbohydrate 28.5 grams
Cholesterol 0 mgs
Fiber 5.6 grams
Recipe courtesy of Hollyhock, from the cookbook Hollyhock Garden to Table.
Looking for a healthy snack idea? These chickpeas are smoky, salty, spicy and a mouthful of crunchy goodness!
Smoky, salty and spicy all wrapped into a morsel of crunchy goodness. These crunchy chickpeas can be sprinkled over salads, grains or just devoured by the fistful.
Ingredients
2 1/2 cups cooked chickpeas*
4 cloves garlic, minced
2 tbsp olive oil
1/2 tsp smoked paprika
1/2 tsp smoked salt
1/4 tsp cayenne pepper
2 scallions, chopped
Instructions
Preheat oven to 450°
Toss all the ingredients, except the scallions, in a medium bowl until the chickpeas are well coated in oil and spices.
Spread the chickpeas in a single layer on a parchment-lined baking sheet. Be sure to scrape out all the garlic bits too.
Bake for 15 minutes, then stir the chickpeas and bake for another 15 minutes.
Allow to cool.
Toss with chopped scallions and serve.
*Use canned or dry. If dry, soak 1 1/2 cups chickpeas overnight and boil in plenty of water until tender.
– Moreka Jolar