Energizing Green Tonic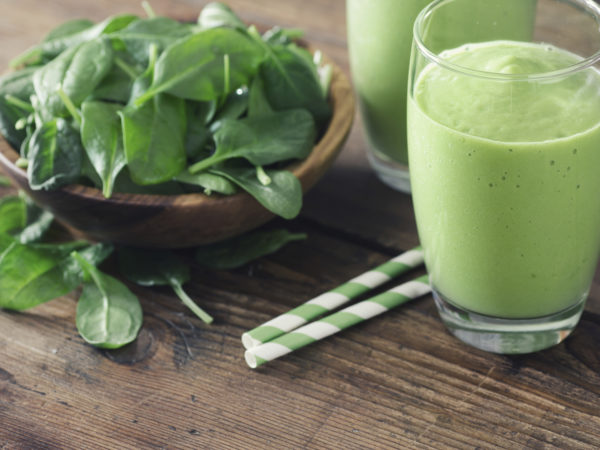 Nutrition
Serves 2
Nutrients per serving:
Calories 78
Protein 2g
Saturated Fat 0g
Monounsat Fat .035g
Polyunsat Fat .145g
Carbohydrate 18.5g
Fiber 5g
Cholesterol 0mg
Vitamin A IU 4965
Vitamin E 0.00
Vitamin C 13.85mg
Calcium 179.94mg
Magnesium 25.69mg
This recipe is courtesy of Dr. Weil's cookbook: FAST FOOD GOOD FOOD.
A great pick-me-up beverage that's simple, refreshing and packed with nutritional goodies. Try it with breakfast, or whenever you need an energy boost.

A very simple, refreshing beverage packed with nutritional goodies and a great pick-me-up –  a hybrid of a juice and a smoothie. The lemon and apple offset the earthiness of raw spinach. Add more liquid to achieve the consistency you like. If you want this drink a little sweeter, add another half an apple. Try it with breakfast, or whenever you need an enrgy boost. A Fast Food Good Food recipe. 
Ingredients
1 small cucumber, peeled and cut into chunks
1 stalk celery, cut into chunks
1 green apple, peeled, cored and cut into chunks
1 cup loosely packed baby spinach
4 romaine lettuce leaves, torn into pieces
1 tablespoon lemon juice
1 teaspoon finely chopped peeled ginger
Pinch of sea salt
Instructions
1. Put the ingredients and 2 cups of water into a blender and puree on high speed for 1 to 2 minutes, until smooth.
2. Strain through a fine-mesh sieve and serve chilled or over ice.