Quinoa Fried Rice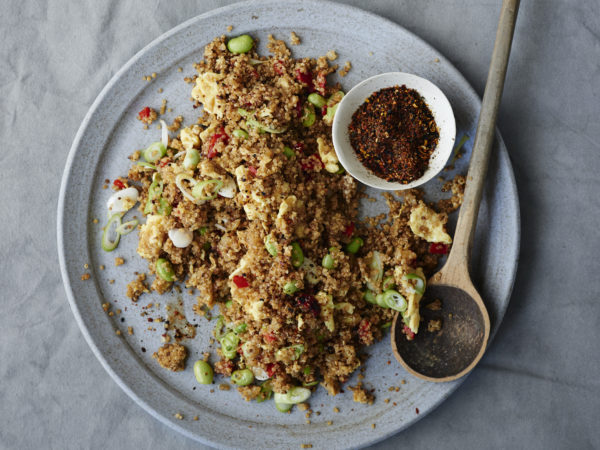 Nutrition
Serves 6
Nutrients per serving:
Calories 206
Protein 6.8g
Saturated Fat 1.3g
Monounsat Fat 2.1g
Polyunsat Fat 5.6g
Carbohydrate 20.2g
Fiber 2.5g
Cholesterol 71mg
Vitamin A IU 1113
Vitamin E 0.00
Vitamin C 7.7mg
Calcium 48mg
Magnesium 1.7mg
This recipe is courtesy of Dr. Weil's cookbook: FAST FOOD GOOD FOOD.
For this quinoa fried rice, many variations are possible to get a balance of color, textures, and flavors.

Chinese fried rice requires you to prepare rice in advance and then chill it. Quick-cooking quinoa allows you to put together a similar grain-and-vegetable dish in a fraction of time. Many variations are possible: use the ingredients you have on hand to get a balance of color, textures, and flavors. This even works for breakfast.  A Fast Food Good Food exclusive!
Ingredients
1 3/4 cups Quick Vegetable Stock
1/4 teaspoon sea salt
1 cup quinoa, rinsed
3 tablespoons grapeseed oil
1 onion, diced
1/3 cup seeded, diced red bell pepper
1 tablespoon low-sodium soy sauce
2 large eggs
1 cup baby spinach
1/4 cup shelled edamame (green soybeans)
2 scallions, white and light green parts only, thinly sliced
2 teaspoons toasted sesame oil
Shichimi (optional)
Instructions
1. In a medium pot, bring the broth or water and salt to boil. Add the quinoa, stir, cover, and reduce the heat to medium-low. Let the quinoa cook for 10 to 15 minutes, stirring once halfway through, until it is just tender and the liquid is absorbed. Remove from the heat and fluff with a fork.
2. Heat the oil in a large skillet over medium-high heat. Add the onions and saute until slightly golden, about 3 to 4 minutes. Stir in the red pepper and continue to cook another minute. Stir in the quinoa, then add the soy sauce and stir until well combined.
3. Push the quinoa mixture aside so that the bottom of the pan is exposed. Break the eggs into the middle and scramble them with a thin spatula until they are set, about 2 minutes.
4. Reincorporate the quinoa and stir in the spinach, edamame, and scallions. Remove from the heat, drizzle with sesame oil and sprinkle shichimi on top, and serve hot.
Variations: You can substitute carrots for peppers, or peas for edamame. Add chinks or strips of baked pressed tofu in place of or in addition to the eggs.