Salmon Nicoise, With Olive, Spearmint & Capers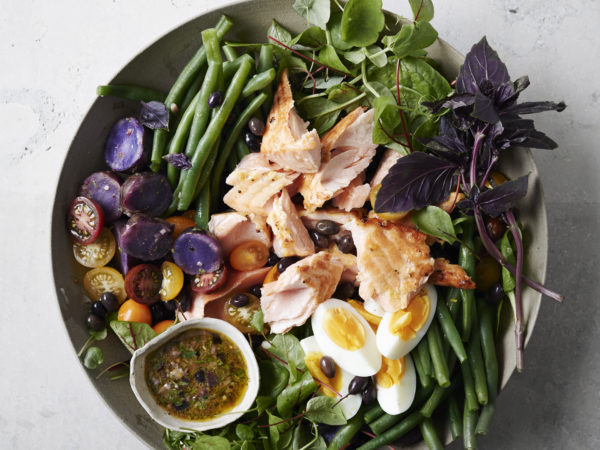 Nutrition
Serves 4
Nutrients per serving:
Calories 706
Protein 41.25g
Saturated Fat 7.75g
Monounsat Fat 22.24g
Polyunsat Fat 8g
Carbohydrate 35g
Fiber 12.25g
Cholesterol 173.5mg
Vitamin A IU 31940
Vitamin E 3.45
Vitamin C 37.18mg
Calcium 307mg
Magnesium 157.75mg
This recipe is courtesy of Dr. Weil's cookbook: FAST FOOD GOOD FOOD.
Serve this recipe as a main-course salad, perfect for a summer lunch!

Classic salad Niçoise (salad in the style of the French city of Nice, on the Mediterranean coast) consists of tuna, green beans, potatoes, hard-boiled eggs, and, usually, anchovies and tiny black olives of the region, all in a classic vinaigrette. Here fresh salmon fillet takes the place of the tuna – as always, take care not to overcook it – and the anchovies and olives are in the dressing together with spearmint and capers. This is a main-course salad, perfect for summer lunch. A Fast Food Good Food exclusive! 
Ingredients
Vinaigrette
1/4 cup lemon juice
1 tablespoon minced shallot
2 teaspoon capers, rinsed and roughly chopped
1 teaspoon Dijon mustard
1 finely chopped anchovy (optional)
1/4 teaspoon sea salt
1/8 teaspoon freshly ground black pepper
1/4 cup extra-virgin olive oil
1/4 cup pitted Kalamata olives, chopped
2 tablespoons finely chopped fresh spearmint
Salad
3/4 pound small purple potatoes or French fingerlings, scrubbed
1 1/4 teaspoons sea salt
2 teaspoons extra-virgin olive oil
2 teaspoons grated lemon zest
2 teaspoons Dijon mustard
1 pound skinless salmon fillet, pinbones removed
Freshly ground black pepper
3/4 pound green beans, trimmed
1 cup cherry tomatoes, halved
6 cups (about 8 ounces) salad greens
2 hard boiled eggs, quartered
12 Niçoise or Kalamata olives
1/4 cup roughly chopped fresh basil
4 lemon wedges
Instructions
1. Preheat the oven to 400°F and line a rimmed baking sheet with parchment paper.
2. To make the dressing, put the lemon juice, shallot, capers, Dijon mustard, anchovy (if desired), salt, and pepper in a small bowl and stir to combine. Slowly pour in the olive oil, whisking all the while, and continue whisking until smooth. Stir in the olives and spearmint. Alternatively, you can blend all the ingredients except the olives and spearmint in a jar with the solid disk of an immersion blender, then stir in the olives and spearmint.
3. In a 4-quart pot, cover the potatoes with cold water and 1 teaspoon of the salt. Bring the water to a boil, then reduce the heat and simmer, uncovered, until potatoes are just tender, about 10 minutes.
4. While the potatoes cook, place the olive oil, lemon zest, and mustard in a small bowl and stir to combine. Place the salmon on the baking sheet and spread the mixture evenly over both sides of the fish, then season it with the remaining 1/4 teaspoon salt and freshly ground pepper.
5. Roast until just opaque but still slightly translucent in the center, about 7 to 9 minutes. Break the salmon into pieces.
6. Transfer the potatoes with a slotted spoon to a bowl. Add the green beans to the boiling water and cook, uncovered, until crisp-tender, about 4 to 5 minutes. Drain and transfer to an ice bath to stop the cooking.
7. Halve the potatoes while still warm and toss with 2 tablespoons of the dressing.
8. Toss the green beans and cherry tomatoes with a tablespoon of the dressing. In a different bowl, toss the greens with enough dressing to coat. Divide the greens among 4 plates, then add the potatoes, tomatoes, green beans, salmon, eggs, and olives. Sprinkle with basil. Serve the lemon wedges and the remaining dressing on the side.