Japanese Pancake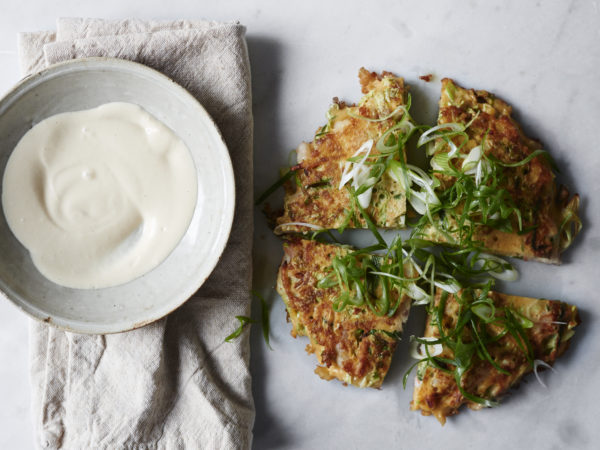 Nutrition
Serves 2
Nutrients per serving:
Calories 558
Protein 19g
Saturated Fat 1.5g
Monounsat Fat 3g
Polyunsat Fat 5.69g
Carbohydrate 96.5g
Fiber 10g
Cholesterol 38.5mg
Vitamin A IU 37101
Vitamin E 0.00
Vitamin C 83.5mg
Calcium 265mg
Magnesium 90mg
This recipe is courtesy of Dr. Weil's cookbook: FAST FOOD GOOD FOOD.
This savory Japanese pancake or okonomiyaki is made with cabbage, other vegetables and a variety of seafood and meats.

This savory Japanese pancake, or okonomiyaki (okonomi means "what you like" and yaki means "grilled" or "cooked"), is made with cabbage and other vegetables and a variety of seafood and meats. In Japan, it's popular street food and is also served in restaurants, some of which let diners choose ingredients and cook the mixture on a personal hot plate. Too often, okonomiyak is smothered with a thick, sweet sauce. I prefer this version, with a miso-mayo topping. I think you'll find it to be a great comfort food for either a main course or breakfast. A Fast Food Good Food exclusive! 
Ingredients
Miso Mayo
1 tablespoon mayonnaise
1 1/2 teaspoons white (shiro) miso
1 1/2 teaspoons unseasoned rice vinegar
Pancakes
1 medium Napa cabbage, thinly sliced (about 4 cups)
1/2 medium sweet potato, peeled and grated
5 scallions, white and light green parts only, thinly sliced (reserve tops for garnish)
2 ounces raw shrimp, peeled, deveined, and coarsely chopped
1/4 teaspoon sea salt
1/2 cup all-purpose flour
2 large eggs
1/4 cup water or Dashi
2 teaspoons low-sodium soy sauce
2 teaspoons unseasoned rice vinegar
2 teaspoons Sriracha sauce
1/2 teaspoon toasted sesame oil
2 teaspoons grapeseed oil
Instructions
1. To make the Miso Mayo, combine all the ingredients into a small bowl, mix well and set aside.
2. In a medium bowl, combine the cabbage, sweet potato, scallions, shrimp and salt.
3. In seperate large bowl, whisk together the flour, eggs, water or Dashi, soy sauce, rice vinegar, Sriracha sauce, and toasted sesame oil. Add the cabbage mixture to the batter and stir to combine.
4. Heat 1 tablespoon of the grapeseed oil in an 8-inch skillet over medium-low heat. Scoop half the batter into the center of the pan and flatten evenly out to the edges so that the pancake is about 1/2-inch think. Give the entire surface a few presses with a wide spatula, cover, and cook undisturbed for 5 to 6 minutes. Carefully turn over the pancake when it has a nice gold color and slides easily. Cook it for another 5 minutes, then remove the pancake to a plate. Add the remaining oil to the skillet and repeat with the remaining batter.
5. Cut the pancakes into wedges with a sharp knife or pizza cutter and serve with a drizzle of Miso Mayo. Garnish generously with scallion tops.