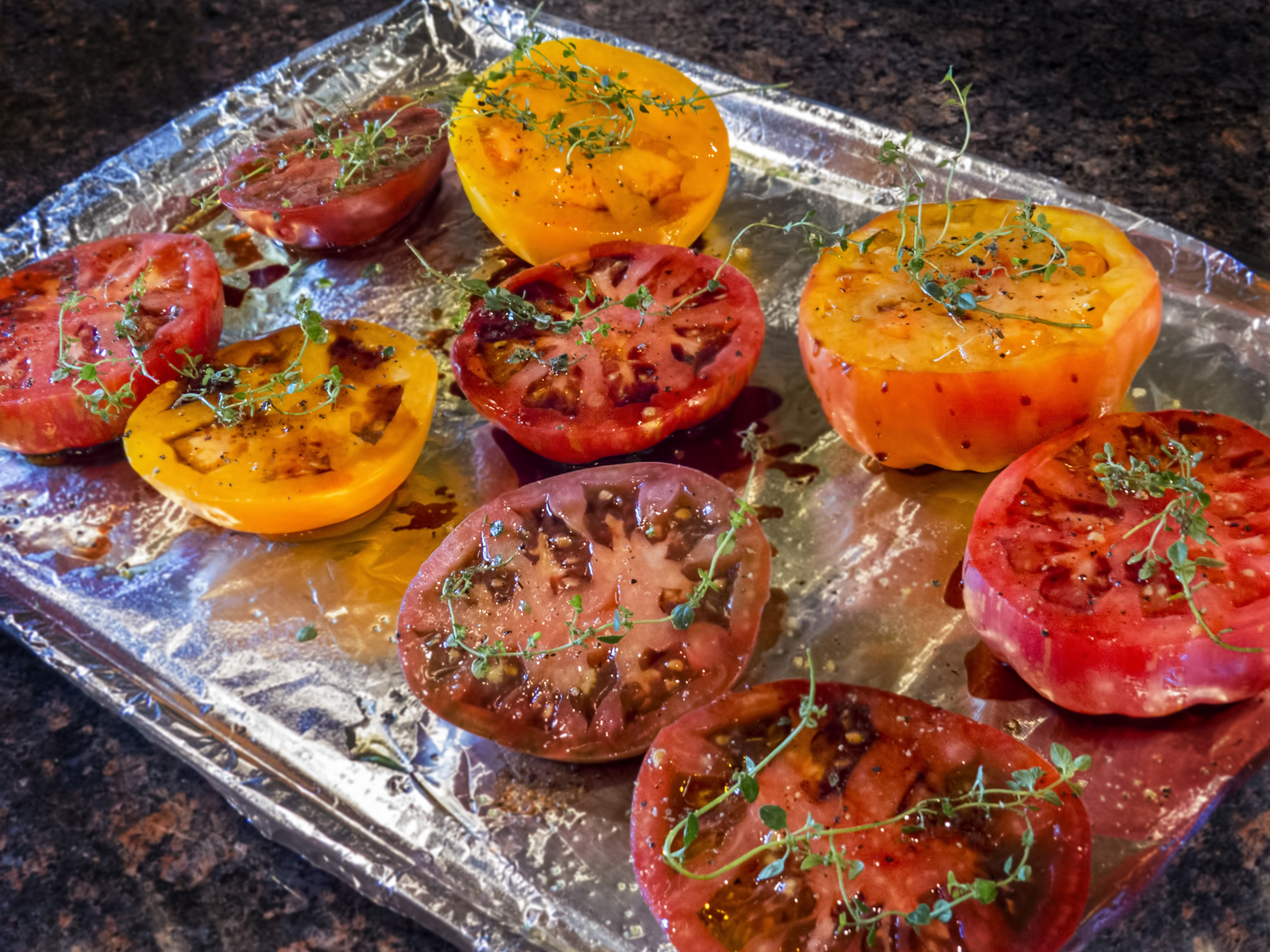 Oven-Roasted Tomatoes
Nutrition
Makes 4-6 Servings
Nutrients Per Serving:
Calories 109.1
Fat 7.5 grams
Saturated Fat 1.0 grams
(55.9% of calories from fat)
Protein 3.0 grams
Carbohydrate 10.2 grams
Cholesterol 0 mgs
Fiber 2.9 grams
This recipe is courtesy of Dr. Weil's cookbook: True Food: Seasonal, Sustainable, Simple, Pure.
A True Food Kitchen exclusive! When it's tomato season, double or triple this recipe and keep this condiment on hand to add to salads, sandwiches, or pastas. We like an array of different, colorful tomatoes – from large ones and heirlooms to grape and cherry – but if you can only find red ones, that's fine.
Food as Medicine
Both fresh and cooked tomatoes have been shown to help lower total cholesterol, and to help keep platelet cells in the blood from clumping together in ways that can lead to athlerosclerosis. And don't worry about the fact that this recipe requires several different shades of tomato. Red, orange and yellow tomatoes are all are abundant sources of lycopene, a potent antioxidant.
Ingredients
4 red tomatoes, halved
4 orange tomatoes, halved
4 yellow tomatoes, halved
1/2 teaspoon salt
1/4 teaspoon freshly ground black pepper
6 sprigs oregano
12 sprigs thyme
3 tablespoons extra-virgin olive oil
Instructions
Preheat the oven to 200 degrees F. Line two baking sheets with silicone baking mats or aluminum foil.
Arrange the tomatoes in a single layer on the prepared pans, cut sides up. Season the tomatoes with the salt and pepper. Lay the herb sprigs on the tomatoes and drizzle everything with the oil. Bake for 2 hours, until wrinkled but still juicy.
Let cool on a wire rack.Remove and discard the herbs and tomato skins and transfer the roasted tomatoes to a lidded container. Refrigerate until ready to use, or freeze for up to 6 months.
Want more healthy, delicious recipes? Join the Dr. Weil on Healthy Aging online guide for access to hundreds of anti-inflammatory recipes and our exclusive eating guides. Sign up today and get 14 days free!