Banana Bread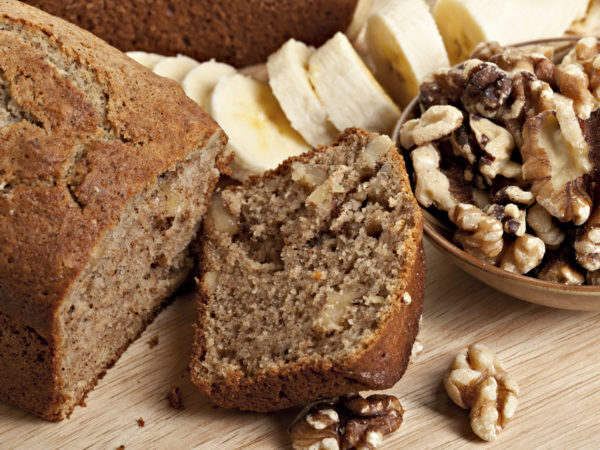 This recipe is healthful by using potassium rich bananas, honey for flavor and whole-wheat pastry flour.
Native to the Caribbean and Central America, bananas are one of America's favorite fruits. They are rich in potassium – one banana contains 450 mg of potassium, one-fifth of the adult daily requirement – and offer a fair share of magnesium (33 mg), too. In addition, bananas help to strengthen the stomach lining and are good for soothing indigestion. Most banana bread recipes are saturated with butter and sugar. This one uses a small amount of canola oil instead – which is much better for your heart – and honey, which of course means lots of flavor. Don't use regular whole-wheat flour. It is too heavy for this recipe. Look for whole-wheat pastry flour instead.
Food as Medicine
Bananas have two stomach-protective mechanisms. First, they help the stomach lining to produce a thicker mucus barrier to protect against stomach acids. Second, compounds in bananas called protease inhibitors can help reduce bacteria in the stomach that have been shown to promote ulcers.
Ingredients
3 very ripe bananas
½ cup honey
3 tablespoons expeller-pressed canola oil, plus a little more for oiling the loaf pan
1 teaspoon pure vanilla extract
1 ½ cups whole-wheat pastry flour
1 ½ teaspoons baking soda
¼ teaspoon salt
¾ cup chopped walnuts or pecans
Instructions
Heat the oven to 350° F.
Lightly oil a loaf pan.
Mash the bananas and mix with the honey, canola oil and vanilla extract.
Stir together the whole-wheat pastry flour, baking soda and salt.
Add the nuts.
Blend the two mixtures and spoon into a lightly oiled loaf pan.
Bake for 40 minutes, or until center is set.