Good Earth Kale Cobb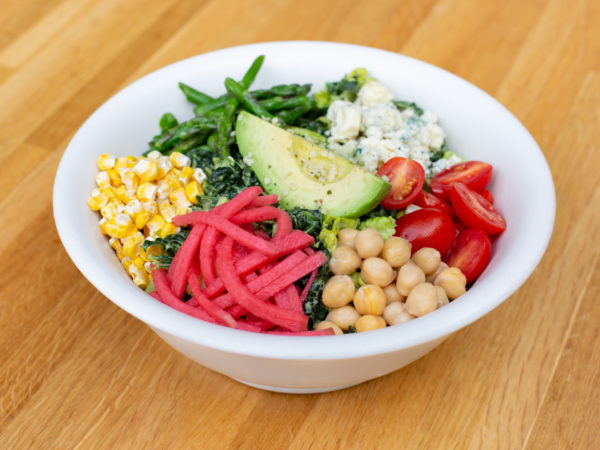 Nutrition
Yields 1 serving.
(Courtesy of True Food Kitchen restaurants)
This special version of a traditional cobb salad (from True Food Kitchen restaurants) includes all sorts of tasty upgrades! Try it with our Cashew Poblano Ranch-style dressing for a Southwestern twist.
This special Good Earth Kale Cobb (from True Food Kitchen restaurants) includes avocado, tomato, asparagus, watermelon radish, garbanzo bean, dried sweet corn, gorgonzola, and a cashew-poblano ranch dressing.
Ingredients
1 ½ ounces shredded organic tuscan kale
1 ½ ounces romaine lettuce (1" pieces)
¼ cup Cashew Poblano Ranch (recipe here)
1 tablespoon dried sweet corn
2 ounces grilled asparagus, 2-3" bias (see below for directions)
2 tablespoon Gorgonzola cheese
4 each cherry tomatoes (halved)
2 tablespoon garbanzo beans (rinsed)
2 tablespoon pickled watermelon radish (see below for directions)
¼ each avocado
1 teaspoon hemp seeds
Instructions
In a large mixing bowl, combine the organic tuscan kale, romaine & Cashew Poblano Ranch dressing.
Toss until well combined. Place greens mixture in a large chilled bowl.
In clockwise order, add the dried corn, grilled asparagus, Gorgonzola, tomatoes, garbanzo beans & pickled watermelon radish.
Place avocado in center of salad and sprinkle with hemp seeds.
Grilled Asparagus
(Yields 1 portion)
2 ounces Asparagus
1 drizzle Grapeseed Oil
1 pinch Kosher Salt
4 turns Fresh Black Pepper
Directions
Toss asparagus with oil, salt & black pepper.
Grill over high heat until lightly charred.
Remove from heat and cool until ready to use.
Pickled Watermelon Radish
(Yields 1 cup)
¼ cup maple syrup
¾ cup rice wine vinegar
1 cup watermelon radish (peeled & julienned)
Directions
Combine and mix maple syrup and rice wine vinegar.
Add watermelon radish and marinate for a minimum of 30 minutes.
Refrigerate radish in liquid until use.