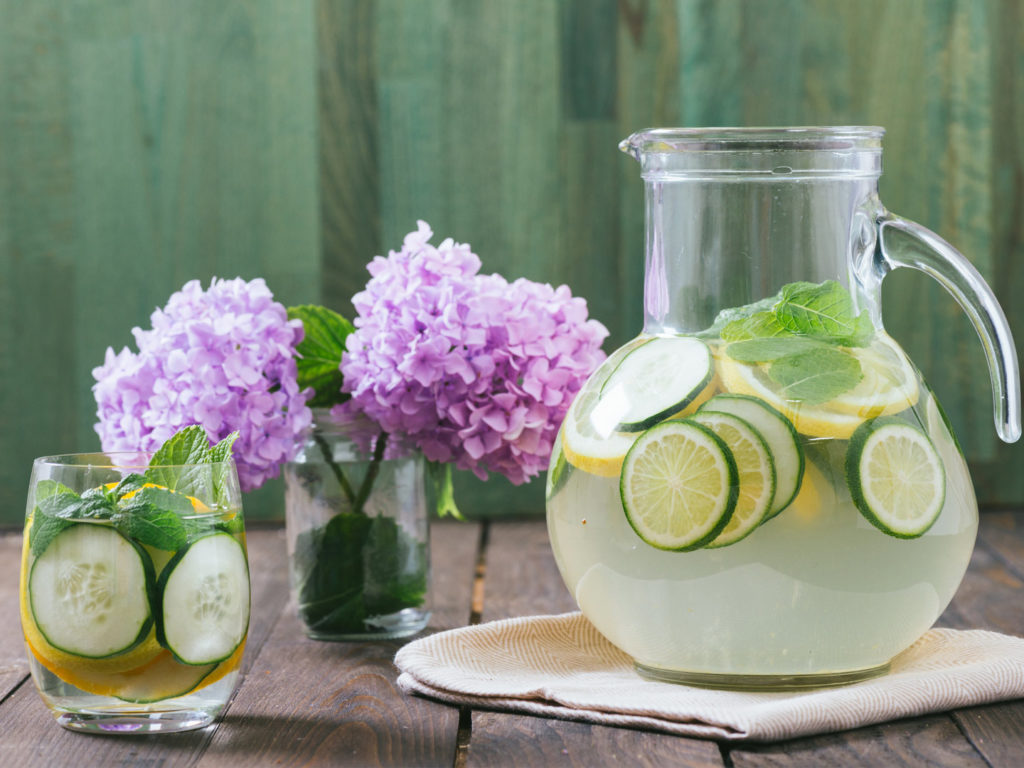 Spa In A Pitcher
Nutrition
Makes 8 cups
Per serving: (one cup per serving)
Calories: 0
Total Fat: 0 g (0 g saturated, 0 g monounsaturated)
Carbohydrates: 0 g
Protein: 0.5 g
Fiber: 1 g
Sodium: 1.5 mg
Recipe courtesy of The Longevity Kitchen, by Rebecca Katz, MS
If you've ever had a Pimm's cocktail (or Pimm's Cup, as it's known among the British faithful), you know it often contains a variety of herbs and sliced fruits. I was watching
a friend make his version of a Pimm's cocktail with orange, lemon, cucumber peel, and a secret herb blend when I thought, "Wow, that looks so refreshing; it's like going to a spa!" Of course, the 50 proof Pimm's had to go (sorry, folks), but I could work around that. What I wanted to create was something that would inspire people to drink, because hydration is so vital to maintaining the body's equilibrium, especially in hot weather. This tonic is like art floating in a chilled pitcher, with thin rounds of orange, lemon, and cucumber interspersed with sprigs of thyme and mint.
-Rebecca Katz, author of The Longevity Kitchen cookbook
Ingredients
1 orange, thinly sliced into rounds
1 Meyer lemon, thinly sliced into rounds
1 unpeeled English cucumber, thinly sliced into rounds
3 sprigs fresh thyme, tarragon, or mint or fennel fronds, or a combination
1 tablespoon freshly squeezed Meyer lemon juice
8 cups water or sparkling water
Instructions
Put the orange, lemon, cucumber, herbs, and lemon juice in a large pitcher. Press the fruit, cucumber, and herbs against the bottom of the pitcher with a wooden spoon, pushing down and twisting slightly to release their juices and volatile oils. Add the water and stir to combine. Refrigerate for one hour before serving.
Variation: In place of the water, use a weak tea made with eight cups of boiling water and four chamomile, ginger, or green tea bags. Let the tea cool to room temperature before adding it to the pitcher.
Prep timee: 5 minutes
Cook time: 1 hour for chilling
Storage: Store in an airtight container in the refrigerator for up to
four days.