Sweet Pea And Lemon Pesto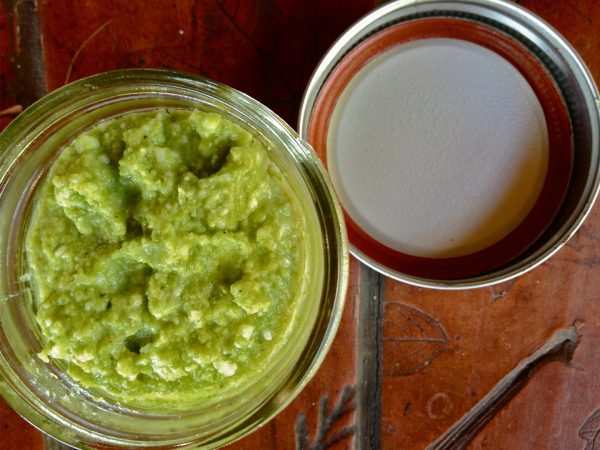 Nutrition
Makes 8 Servings (2 tbsp/serving)
Nutrients Per Serving:
Calories 62.7
Fat 6.0 grams
Saturated Fat 1.3 grams
(84.8% of calories from fat)
Protein 1.5 grams
Carbohydrate 0.9 grams
Cholesterol 2.4 mgs
Fiber 0.2 grams
Recipe courtesy of Hollyhock, from the cookbook Hollyhock Garden to Table.
This pesto recipe is vibrant, fresh and brightly flavored.

There's no doubt that basil stands as queen of the pesto kingdom, but when we slipped these sweet green gems in its place, well, let's just say the basil was a little pea-green with envy. Vibrant, fresh and brightly flavored, this pesto is perfect as a spread for crostini or baguette, spread on cooked fish or tossed with pasta.
Ingredients
1 cup fresh or frozen peas
1 clove garlic
1/3 cup freshly grated Parmesan
1 tsp lemon juice
1 tsp fine lemon zest
3 tbsp olive oil
salt and pepper
Instructions
Pulse peas, garlic, Parmesan, lemon juice and zest in a food processor. With machine running, slowly drizzle in olive oil until well combined. Season generously with salt and pepper. Serve as a spread, on grilled fish, or over your choice of hot pasta.
– Heidi Scheifley