Hemp Crusted Salmon, Chinese Broccoli, Lotus, Peas & Yuzu Ponzu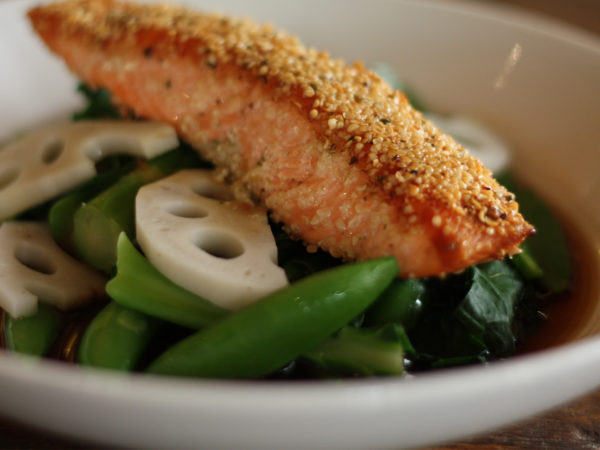 Nutrition
Serves 6
Nutrients Per Serving:
Calories: 291
Protein: 36.83g
Fat: 10g
Saturated Fat: 1.5g
Monounsat Fat: 3.21g
Carbohydrate: 13.33g
Fiber: 2.17g
Cholesterol: 83.83mg
This recipe is courtesy of Dr. Weil's True Food Kitchen restaurant in Phoenix, Arizona.
Not your everyday salmon entrée. This recipe proves dinner can be decadent without sabotaging your healthy diet!
This is not your everyday salmon entrée. Not only is the wild salmon in this recipe enhanced by a crunchy coating of nutty hemp seeds, but it is served atop a bed of lotus root and Chinese broccoli soaked in an exotic yuzu sauce. Dinner can be decadent without sabotaging your healthy diet. A True Food Kitchen recipe.
Food as Medicine
Hemp seeds are rich in omega-3 fatty acids (in the form of alpha-linolenic acid, or ALA) and protein (hemp contains all 10 essential amino acids), making them a valuable addition to the diet for vegans and vegetarians. Hemp is also loaded with fiber and phytosterols, as well as a plethora of vitamins and minerals, such as magnesium, ascorbic acid, beta-carotene, calcium, iron, potassium, phosphorus, riboflavin, niacin, thiamin and vitamin E. Here, hemp seeds are coupled with salmon – another extremely rich source of omega-3 fatty acids. The omega-3s found in salmon produce anti-inflammatory forms of the hormone-like molecules called prostaglandins that also prevent platelet aggregation and enhance blood flow throughout the body.
Ingredients
SALMON
6 5-ounce portions of wild king or wild sockeye salmon
2 tablespoons hulled hemp seeds
VEGETABLES
1 pound chinese broccoli, cleaned & trimmed
1 piece lotus root, peeled & sliced 1/4 inch thick
1/2 pound snap peas, cleaned & trimmed
SAUCE
1 cup mushroom or vegetable stock
1/4 cup yuzu juice
1/2 cup soy sauce
1 clove garlic, minced
1 tsp ginger, minced
1 pinch red chili flakes (optional)
Instructions
For the salmon:
Season the salmon with salt & pepper & sprinkle with hemp seeds. Use a non-stick pan & coat with a small amount of olive oil. Working in batches to get good sear on the salmon portions, gently sear the salmon pieces on both sides and remove.
Place on a baking sheet. Bake the salmon at 350 degrees for 12-18 minutes or until desired doneness.
For the vegetables:
Place all vegetables in a steamer pan and steam for 4-5 minutes or until bright green. They should be tender, but still a little crisp.
For the sauce:
Combine all ingredients for sauce.
To serve:
Place the roasted salmon on top of the steamed vegetables, spoon the sauce over the salmon & vegetables, coating all.