Better-Than-An-Apple-A-Day Cake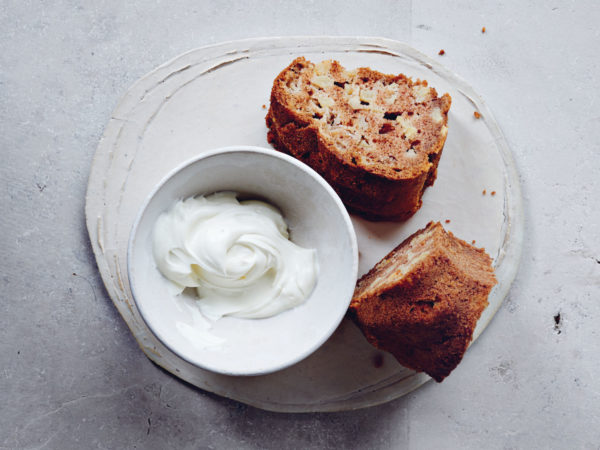 Olive oil cakes are Italian specialties. Most that I've tried are made with citrus fruit, lemons or oranges. This very moist cake is bursting with fresh apples and fragrant with cinnamon.
This very moist cake is bursting with fresh apples and fragrant with cinnamon. Because the cake is fairly low in sugar, apples that balance tart with sweet, like Pink Lady, Fuji, or Honey Crisp, are a good choice. Granny Smiths are too tart and don't break down enough in baking. The mix of organic all-purpose flour and teff flour adds a slightly nutty taste. Preparation is quick, but this cake has to bake for an hour, then cool briefly. It is delicious served plain, and fabulous with a scoop of good vanilla ice cream or vanilla yogurt. Any leftover cake can be frozen for up to three months.
Ingredients
2 large eggs
¾ cup evaporated cane sugar
¾ cup extra-virgin olive oil (choose one that's fruity, not peppery), plus a little for greasing the pan
1¾ cups all-purpose flour
¼ cup teff flour
1 teaspoon sea salt
1½ teaspoons ground cinnamon
1 teaspoon baking soda
½ teaspoon baking powder
1 teaspoon vanilla extract
¼ cup applesauce
4 apples, peeled, cored, and cut into ¼-inch dice
Instructions
Preheat the oven to 350°F and lightly grease a 10- to 12-cup Bundt pan with a little olive oil.
Combine the eggs and sugar in the bowl of an electric mixer. Using the paddle attachment, mix on medium speed for 2 to 3 minutes until pale yellow in color. Add the oil and mix until well incorporated.
Whisk or sift together the flours, salt, cinnamon, baking soda, and baking powder. Slowly add the flours to the batter until they're fully incorporated. Add the vanilla, applesauce, and diced apples and mix on low until just combined.
Pour the batter into the prepared pan and bake for 55 to 60 minutes or until a toothpick comes out clean. Allow the cake to rest on a cooling rack in the pan for 10 minutes, then invert it onto a rack to cool fully.
Excerpted from Fast Food, Good Food, copyright © 2015 by Dr. Andrew Weil. Photography courtesy of Ditte Isager. Used with permission of Little, Brown and Company, New York. All rights reserved.