Cashew Brittle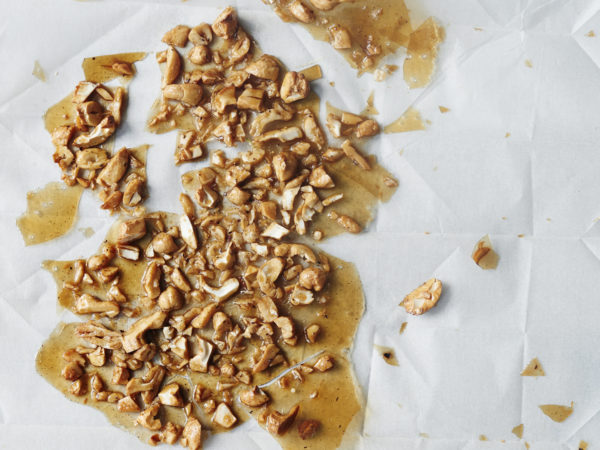 Nutrition
Serves 4
Nutrients per serving:
Calories 36
Protein .75g
Saturated Fat 0.5g
Monounsat Fat 1.3g
Polyunsat Fat .75g
Carbohydrate 4g
Fiber .25g
Cholesterol 0.00mg
Vitamin A IU .15
Vitamin E 0.00
Vitamin C .005mg
Calcium 2.2mg
Magnesium 11.4mg
This recipe is courtesy of Dr. Weil's cookbook: FAST FOOD GOOD FOOD.
This brittle adds a delicate crunch to frozen desserts and holds up well in an airtight container!
You can think of this treat as a "dessert accessory" that adds a a delicate crunch to frozen desserts. It can also take the place of a cookie. The brittle holds up well in an airtight container at room temperature. I can't imagine that you'll have it around for long, but you can freeze it for longer storage. A Fast Food Good Food exclusive! 
Ingredients
1/2 teaspoon grapeseed oil
3 tablespoon grade B maple syrup
2 tablespoon roughly chopped raw cashews
1/4 teaspoon ground nutmeg
1/8 teaspoon vanilla extract
1/8 teaspoon sea salt
Instructions
1.  Preheat the oven to 375°F. Line a rimmed baking sheet with parchment paper and spread the oil in a thin even layer.
2. Combine the remaining ingredients in a small bowl. Pour the mixture onto the oiled parchment paper and spread it in an even and thin layer. Bake for about 5 or 7 minutes, staying close to the oven to monitor the baking and avoid burning. The syrup will become bubbly, then after another 2 to 3 minutes, the cashews will take on a golden color and the syrup a deep amber.
3. Remove the brittle from the oven and let it cool to room temperature on the sheet. To make it easier to break, you can pop it in the freezer for about 5 minutes. Break into irregular-size pieces.