Tofu Curry With Cauliflower, Rice Noodles & Cashews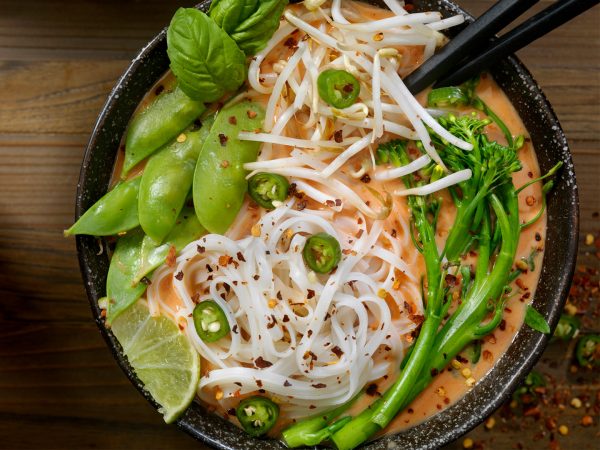 Traditional Thai curries, while delicious, can be heavy with creams and oils. This red curry does not skimp on flavor or body with the addition of healthier alternatives like coconut cream and coconut water.
Coconut water is blended with coconut cream for a velvety, rich curry sauce. A modest amount of curry powder, along with Thai red curry paste (available in many supermarkets) and other top-quality aromatics, balances the dish. Fresh vegetables are added near the end, and cooked only until just tender.
Ingredients
CURRY BROTH
2 ⅔ cups unsweetened coconut cream
1 ⅔ cups unsweetened coconut water
1 lemongrass stalk, mashed
1 tablespoon plus 1½ teaspoons chopped fresh ginger
2 dried shiitake mushroom caps
3 tablespoons Thai red curry paste
2 tablespoons honey
1 tablespoon freshly squeezed lime juice
1 kaffir lime leaf, torn, or 1 teaspoon freshly grated lime zest
4 sprigs cilantro
3 fresh basil leaves
⅓ teaspoon curry powder
⅛ teaspoon salt
NOODLES, TOFU, AND VEGETABLES
1 small boiling potato, such as red bliss, diced
12 ounces extra-firm tofu, cut into large squares
3 ounces shiitake mushrooms, stemmed and sliced
1 small onion, thinly sliced
1 ½ cups cauliflower florets
2 carrots, sliced on the bias
3 ounces sugar snap peas, trimmed
Salt to taste
1 (8-ounce) package rice stick noodles, soaked according to package directions
½ cup chopped roasted unsalted cashews
¼ cup fresh cilantro leaves
Instructions
Combine all of the Curry Broth ingredients in a large pot over medium heat. Once the broth starts to simmer, reduce the heat to low and cook for 30 minutes. Do not boil. Strain the broth through a fine-mesh strainer into a large saucepan. Set aside. (The broth may be made ahead and refrigerated for 3 days or frozen for up to one month.)
Put the potato in the Curry Broth and cook over medium heat, but do not boil, just until the pieces start to become tender when pierced with a fork. Add the tofu, mushrooms, onion, cauliflower, and carrots. Continue to cook until all the vegetables are tender, about 5 minutes. Add the sugar snap peas and cook for another 2 minutes. Adjust the seasoning with salt.
Divide the curry among warm bowls, then add the noodles to the bowls. Top with the cashews and cilantro before serving.
Excerpted from True Food, Seasonable, Sustainable, Simple, Pure, copyright © 2012 by Dr. Andrew Weil.  All rights reserved