Carrot, Beet, Coconut & Sesame Salad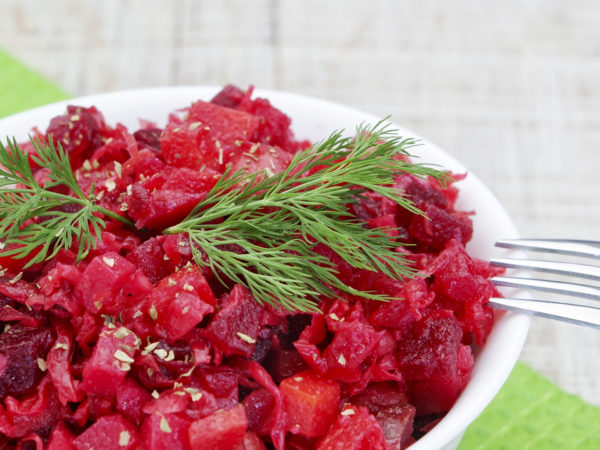 Nutrition
Serves 6 + vegan, gluten free
Nutrients Per Serving:
Calories 108
Fat 8.7 grams
Saturated Fat 2.1 grams
(69.0% of calories from fat)
Protein 1.6 grams
Carbohydrate 7.2 grams
Cholesterol 0 mgs Fiber 2 grams
Recipe courtesy of Hollyhock, from the cookbook Hollyhock Garden to Table.
We love leafy greens around here, but it's always fun to add extra color to our salad plates. Try this one today!
Fresh and vibrant flavors of coconut, carrots and beets mingle in this simple, crisp salad. Serve this alongside Parchment-Baked Salmon.
Ingredients
1/4 cup sesame seeds
1 medium beet
2 medium carrots
1/4 cup dried* or fresh coconut
3 tbsp lemon juice
2 tbsp extra virgin olive oil
1 tbsp balsamic vinegar
1 tsp honey
1 tbsp finely chopped fresh mint
salt and pepper to taste
Instructions
In a dry skillet, toats the sesame seeds until golden.
Remove from heat and allow to cool.
Grate beets and carrots and stir together in a large bowl.
Stir in coconut and sesame seeds.
Add remaining ingredients and stir to combine. Adjust seasoning with salt and pepper.
*If using dried coconut, cover it in hot water and let sit for 5 minutes. Strain and discard liquid.
Nori's Tip: While certain plants appreciate a head start indoors, root vegetables such as carrots and beets need to be direct seeded into your garden.
– Deepa Naryan