Lemon Ginger Sorbet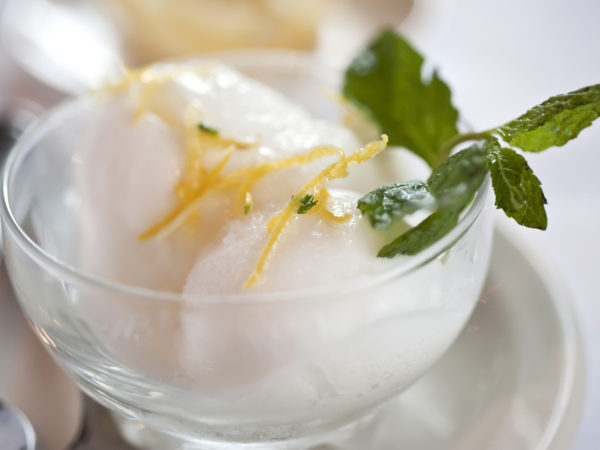 Nutrition
Serves 6
Nutrients Per Serving:
Calories: 211
Protein: 9.83g
Fat: 1g
Saturated Fat: 0.67g
Monounsat Fat: .001g
Carbohydrate: 41.5g
Fiber: 0.00g
Cholesterol: 8.83mg
This recipe is courtesy of Dr. Weil's True Food Kitchen restaurant in Phoenix, Arizona.
Who doesn't love a light, refreshing sorbet on a hot summer afternoon, or after a salad dinner served al fresco? Try making your own with this zesty recipe.
This healthier, sunny ice cream alternative has a tangy flair from freshly grated ginger and lemon zest that will leave you sweet tooth satisfied, but your body feeling good. Try serving with fresh fruit or mint leaves instead of traditional ice cream toppings. A True Food Kitchen recipe.
Food as Medicine

Ginger, the underground rhizome of the ginger plant, has a long history in traditional medicine of relieving gastrointestinal distress. Modern studies have shown it to be especially effective against motion sickness.
Ingredients
Instructions
Combine all ingredients in a bowl.
Refrigerate until ice cold.
Pour into ice cream machine.
Puree until completely smooth.
Freeze.
Very simple and delicious on a warm summer evening.
* In light of recent research, Dr. Weil no longer recommends agave syrup and suggests substituting an equivalent amount of maple or glucose syrup.