Salmon Teriyaki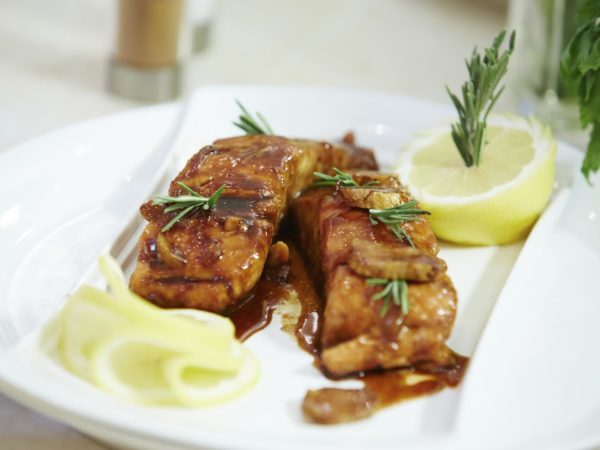 Nutrition
Serves 2
Nutrients Per Serving
Calories: 315.7
Protein: 38.1 grams
Fat: 10.0 grams
Saturated Fat: 2.1 grams
Monounsat Fat: 3.6 grams
Polyunsat Fat: 3.4 grams
Carbohydrate: 6.9 grams
Fiber: 0.3 grams
Cholesterol: 75.6 mg
Vitamin A: 168.0 IU
Vitamin E: 1.1 mg/IU
Vitamin C: 1.7 mg
Calcium: 73.5 mg
Magnesium: 69.7 mg
This easy main dish makes a delicious meal when served with a green salad, rice, rice noodles or steamed veggies.
Reserve some of the marinade before adding the fish to use as a sauce for the rice or rice noodles. Salmon contains substantial amounts of omega-3s, essential fatty acids which reduce inflammation and help protect against heart disease. Try to eat fish two to three times a week, especially fish that contain generous amounts of omega-3 fatty acids. Other choices include sardines, herring and mackerel.

Food as Medicine
Salmon, like most cold-water fish, contains an abundance of omega-3 essential fatty acids that may lower the risk of heart disease. Omega-3s have been shown to lower triglyceride (blood fat) levels, minimize inflammation and clotting, and increase HDL ("good") cholesterol. Daily consumption of omega-3-rich salmon can significantly reduce the risk of coronary disease, most likely because the constant supply of omega-3s reduces the presence of leukotrienes – compounds that can damage blood vessel linings and result in atherosclerosis.
Ingredients
1 cup sake (Japanese rice wine)
1/2 cup natural soy sauce or tamari
1 tablespoon fresh grated ginger
2 cloves fresh garlic, pressed
1 tablespoon dark brown sugar
12-ounce salmon filet, cut in two 6-ounce pieces
Instructions
Prepare the marinade by mixing the sake, soy sauce (a reduced-sodium variety if you prefer), ginger, garlic and brown sugar together in a small bowl. Reserve 1/4 cup of the marinade.
Rinse the salmon filets under cold water, place in a glass or ceramic dish and pour the marinade over it.
Cover and let marinate in the refrigerator for 1 to 3 hours, spooning the liquid over any exposed parts of the fish once or twice.
Prepare the grill or preheat the broiler to high heat.
Remove the fish from the marinade and place on foil on the grill or a broiler pan. Broil or grill until done, being careful not to overcook.
Pour reserved marinade over fish and serve at once.