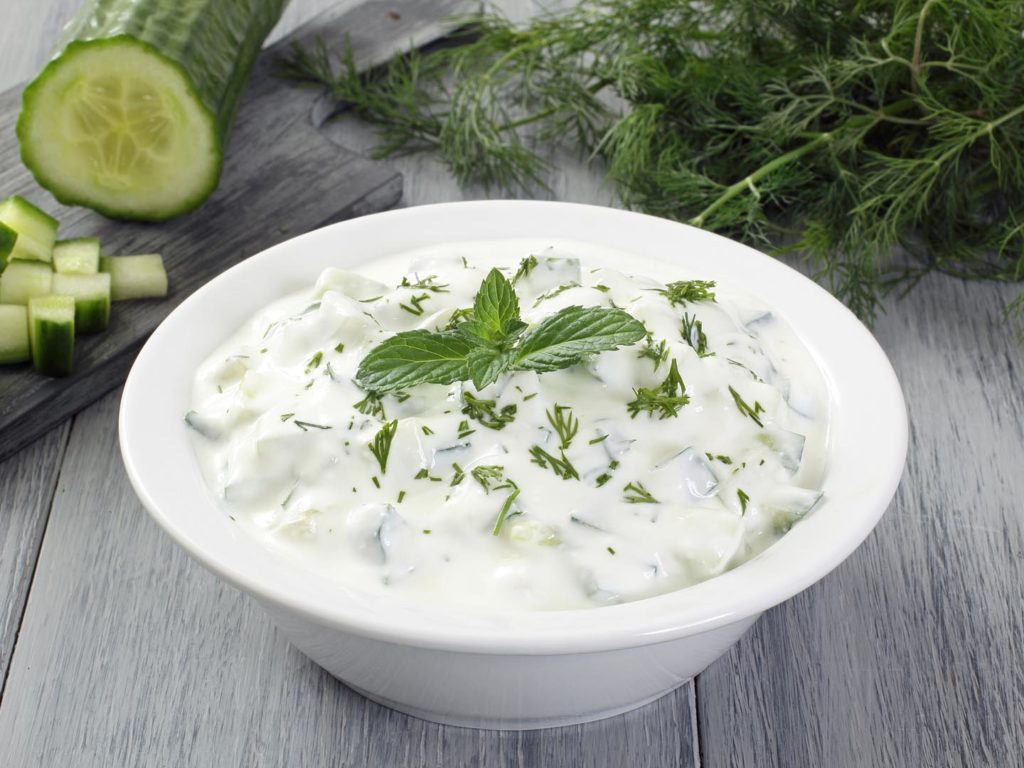 Cucumber Raita
Nutrition
Serves 4
Per Serving
Calories: 86.8
Protein: 7.7 grams
Fat: 0.4 grams
Saturated Fat: 0.2 grams
Monounsat Fat: 0.1 grams
Polyunsat Fat: 0.1 grams
Carbohydrate: 13.4 grams
Fiber: 1.0 grams
Cholesterol: 2.2 mg
Vitamin A: 61.1 IU
Vitamin E: 0.1 mg/IU
Vitamin C: 4.7 mg
Calcium: 259.3 mg
Magnesium: 34.5 mg
This traditional Indian side dish or sauce is cool and delightful especially with spicy curries.
Food as Medicine
Good-quality yogurt contains live bacterial cultures such as Lactobacillus casei that may help strengthen the immune system among other health benefits. Yogurt is also high in iodine, calcium and phosphorous. Cucumbers are a very good source of vitamin C and caffeic acid, both of which prevent water retention and reduce swelling.
Ingredients
2 large cucumbers, peeled, seeded, and chopped
1 medium onion, finely chopped
1 tablespoon salt
2 cups plain, nonfat** yogurt
1/2 teaspoon ground cumin
Black pepper to taste
Instructions
1. Mix the cucumbers, onion, and salt in a bowl. Let stand for 1/2 hour.
2. Drain off liquid, rinse well with cold water, and drain; then soak in cold water to remove as much salt as desired. Drain well.
3. Add the yogurt, cumin, and pepper. Refrigerate for at least 2 hours before serving.
** In light of recent research, Dr. Weil no longer recommends reduced-fat dairy products unless you happen to prefer the taste.
Want more healthy, delicious recipes? Join the Dr. Weil on Healthy Aging online guide for access to hundreds of anti-inflammatory recipes and our exclusive eating guides. Sign up today and get 14 days free!