Slow-Baked Tofu With Stir-Fry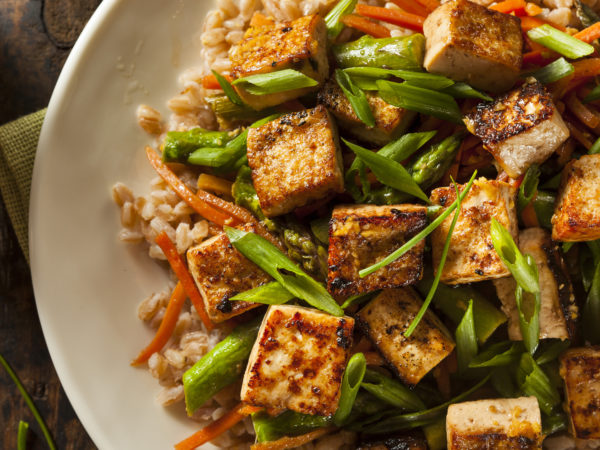 This stir-fry is great over toasted grain pilaf topped with peanut sauce for extra flair, protein, and flavor.
It is really worth the time to experiment with recipes that call for tofu. You can always marinate and bake it ahead of time to make it easier to incorporate in your favorite recipes. Once you've learned how to work with it, you can substitute it in recipes that call for chicken or meat. As we have all experienced, eating the same source of protein all the time can get boring. This dish is great because you get your helping of vegetables in and they are all tossed and cooked in a delicious marinade. This stir-fry is great over Toasted Grain Pilaf topped with peanut dipping sauce to add more flair, protein, and flavor.

Food as Medicine
Regular intake of soy protein in the form of tofu or other soy foods has been shown to lower LDL ("bad") cholesterol levels by up to 40 percent, reduce blood triglyceride levels, and decrease the risk of blood clot formation. Although nowhere near as rich in omega-3s as salmon and other cold-water fish, four ounces of tofu still provide 15 percent of the Daily Value of the heart-healthy essential fatty acid.
Ingredients
3 cups Toasted Grain Pilaf or brown rice
MARINADE
1 teaspoon toasted-sesame oil
3 cloves garlic, sliced
1/4 cup of natural soy sauce (such as tamari)
2 tablespoons peeled, sliced fresh ginger
1 tablespoon Dijon-type mustard
1 tablespoon ground cumin
16 ounces packaged firm tofu
STIR-FRY
1/2 head broccoli
1 large onion, sliced and peeled
2 garlic cloves, sliced
2 carrots, peeled and cut match-stick style
2 tablespoons olive oil
1/4 pound snow peas, strings removed
1/2 cup sliced mushrooms
2 tablespoons natural soy sauce (such as tamari)
1/4 cup purified water or vegetable stock
GARNISH
1 1/2 cups peanut dipping sauce or 2 tablespoons sesame seeds
Instructions
Preheat oven to 300°F
Whisk all the marinade ingredients together in a baking dish. Drain the tofu and slice it vertically into nine 1/2-inch segments. Lay the tofu slices in the marinade and turn them gently, using a spoon, to completely coat each one. Bake on the top rack of the oven for 30 minutes.
To cook brown rice takes about 45 minutes, so unless you are using leftover prepared rice start preparing it now.
Turn the tofu over and baste the tops with the marinade in the baking dish. Continue to bake for another 30 minutes, until the tofu slices puff up, turn light brown, and become slightly hard. Remove from the oven and let cool for 15 minutes. When completely cooled, cut into cubes.
Cut the florets off the head of the broccoli, slicing the large ones in half so they are all more or less the same size. You should have about 2 cups. Discard the stalks or save them for another stir-fry or for soups.
Sauté the onion, garlic, and carrots for 3 minutes in the olive oil in a wok or sauté pan over medium-high heat, being careful not to burn the oil. It should not smoke. Toss in the broccoli, snow peas, and mushrooms. Stir with a wooden spoon to keep the vegetables moving for another 2 minutes.
Stir the soy sauce into the vegetables, then add the water or vegetable stock. Drop in the cubed tofu, toss a few times, cook for 2 more minutes, then turn off the heat. Cover the pan with a lid and let the vegetables steam for about 6 minutes. Place 1/2 cup prepared rice on each of 6 plates, cover with equal portions of the stir-fry and top with some peanut sauce or 1 teaspoon sesame seeds.
Tips from Rosie's Kitchen
Although using a wok is ideal for stir-fry dishes, you can use a sauté pan and achieve excellent results. The marinated and slowly baked tofu is another item that is very useful to have on hand in the fridge a few days in advance to cube up and use in this or other stir-fries, or to toss in your favorite salad as a meat alternative.