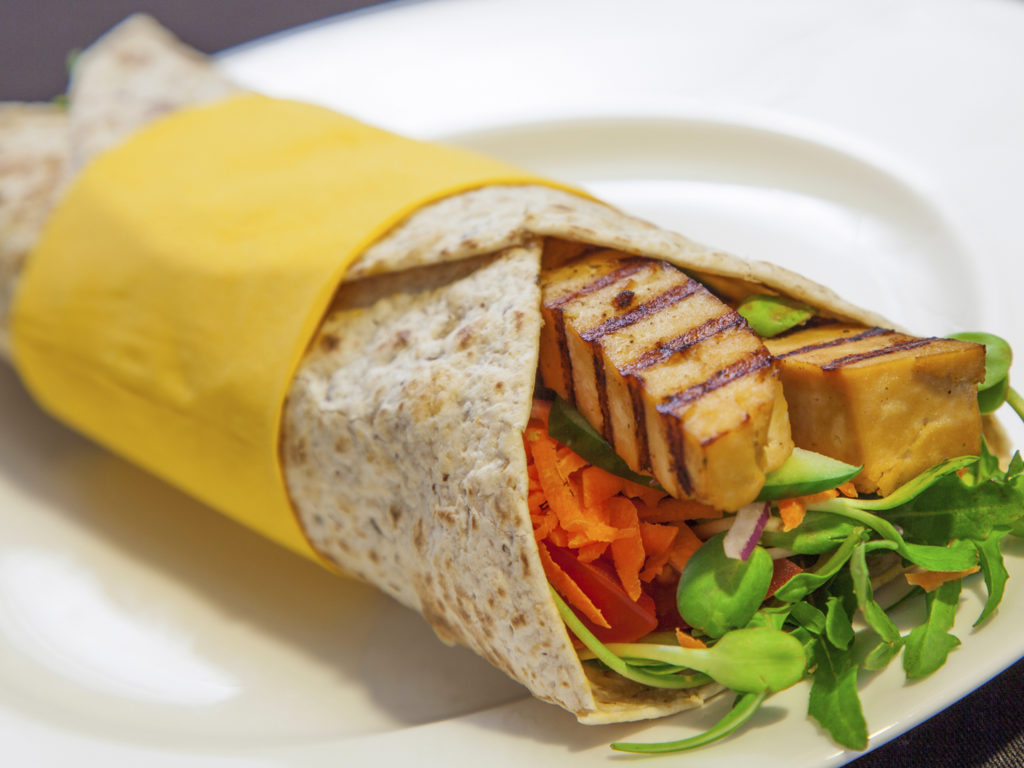 Tofu Fajitas
Nutrition
Serves 6
Nutrients Per Serving:
Calories 303
Fat 10.5 grams
Saturated Fat 1 gram
(31% of calories from fat)
Protein 23 grams
Carbohydrate 32 grams
Cholesterol 0 mgs
Fiber 8 grams
This recipe is from THE HEALTHY KITCHEN – Recipes for a Better Body, Life, and Spirit by Andrew Weil, M.D and Rosie Daley (Knopf)
For a quick and exciting meal, this healthful version of a popular Mexican dish is hard to beat. The baked tofu neatly replaces beef and, along with olive oil, provides a healthy twist. Whole-wheat tortillas work great with this fajita filling. They have none of the hydrogenated fat of conventional white-flour tortillas and provide some fiber. The freshness of the ingredients makes these fajitas both visually appealing and delicious.

Food as Medicine
Like fish, whole soy foods like tofu contain heart-healthy omega-3 fatty acids, which improve cholesterol issues (regular consumption of soy can lower cholesterol by up to 30 percent), reduce blood clotting, and protect against heart arrhythmia. Tofu is also a high-protein food; just four ounces of this nutritious bean curd contains almost 10 grams of protein, but only 86 calories. Elevated homocysteine, an amino acid that in high concentrations has been associated with an increased risk of cardiovascular disease.
Ingredients
2 tablespoons extra-virgin olive oil
1 large onion, sliced
1 red bell pepper, seeded and julienned
1 green pepper, such as ancho, Anaheim or bell, seeded and julienned
1 hot pepper, such as jalapeno or Serrano, seeded and minced
1 cup sliced mushrooms, such as cremini or portobello
2 cups sliced, baked pressed tofu (preferably savory or hickory-smoked flavor)
Salt to taste
6 whole-wheat tortillas, warmed
GARNISH:
Low-fat** sour cream, salsa, chopped fresh tomatoes, avocado and scallions
Instructions
1. Heat the olive oil in a large skillet over medium-high heat, then add the onions.
2. Sauté, stirring, until the onions are translucent. Stir in the peppers and mushrooms and sauté until the vegetables begin to soften, about 5 minutes.
3. Add the tofu and stir-fry for 5 minutes more. Season with salt to taste and serve in the tortillas.
4. Top the fajitas with sour cream, salsa, chopped fresh tomatoes, avocado, scallions, or a combination of these.
** In light of recent research, Dr. Weil no longer recommends reduced-fat dairy products unless you happen to prefer the taste.
Want more healthy, delicious recipes? Join the Dr. Weil on Healthy Aging online guide for access to hundreds of anti-inflammatory recipes and our exclusive eating guides. Sign up today and get 14 days free!